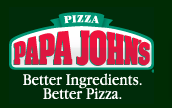 When you sign up to receive email or text offers from Papa John's Pizza you'll get a coupon for a free medium cheese pizza with the purchase of another pizza.  Yum!  I could go for pizza right now.
Thanks, Common Sense With Money!
I'm still trying to win a free pizza from Dominos. Have any of you won yet?