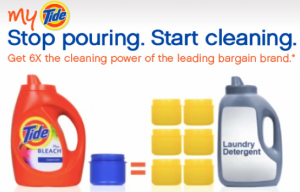 This high-value Tide coupon will be available again today if you missed out yesterday…
At 10AM EST today, Tide will be giving away 35,000 $2/1 Tide plus Bleach Alternative coupons on a first come, first serve basis.  To grab yours, hurry on over to the Tide Facebook page, "like" them and then click on the 6X Coupon Clean tab to request your coupon.  These will go fast as there are only 35,000 coupons available!
If you're not quite fast enough, don't despair as Tide will be giving away these same coupons for the remainder of the week (tomorrow's coupons will be given away at 8 PM EST, and I'll be sure yo remind you!
While you wait, you can vote for me {Ashley} in the Cheap Sally Bring Home the Bacon Contest. It only takes a second and you can vote every day through Nov. 28th. Thank you! http://www.cheapsally.com/profile/ashley-walkup/