This post was written by my wonderful husband. I hope you enjoy it!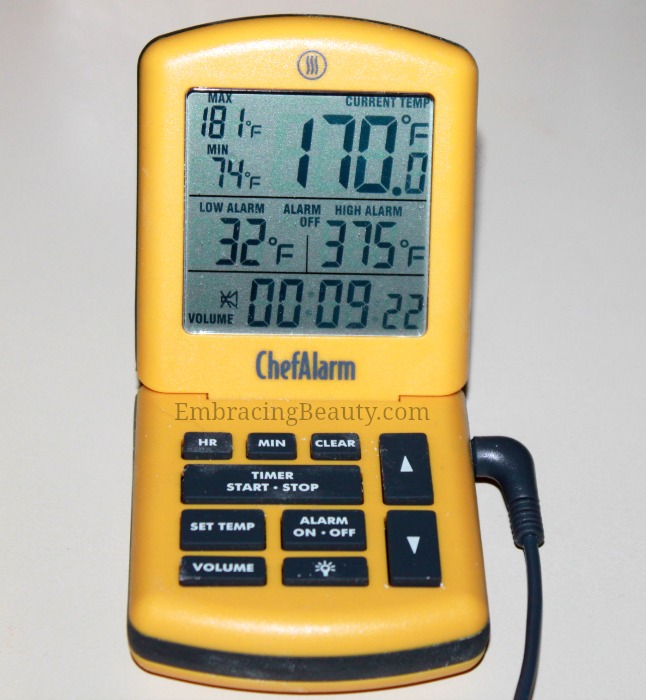 I was recently given an exciting new product from ThermoWorks to review called the ChefAlarm, and was quite pleased once again.  I've never been a great cook but learning to cook with thermometers these past few years has improved my success rate immensely.  And when it comes to thermometry, there is no better company than ThermoWorks, the maker of the Thermapen, which is the Cadillac of instant read thermometers.   (See my Thermapen review here)  I use my Thermapen every time I cook pretty much anything.  In the information age we live in, you can quickly find the ideal internal temperature for just about any food  you are cooking, from meat to bread to muffins to baked potatoes.  Try it!  On top of finding suggested temperatures for various foods, you can also keep a food diary to track your own preferences.  All of this information of ideal and preferred temperatures combined with a fast and accurate thermometer you are pretty much guaranteed consistent results.  Truly great chefs have an instinct for cooking that I just don't possess so for me cooking is more of a math/science experiment and I'm OK with that.  So my cooking involves notes, food scales, and my Thermapen (and sometimes even a spreadsheet–what can I say, I'm a statistician).  But even naturally gifted chefs can benefit from a great thermometer to confirm those instincts and tell you what is going on in the center of the food you are cooking.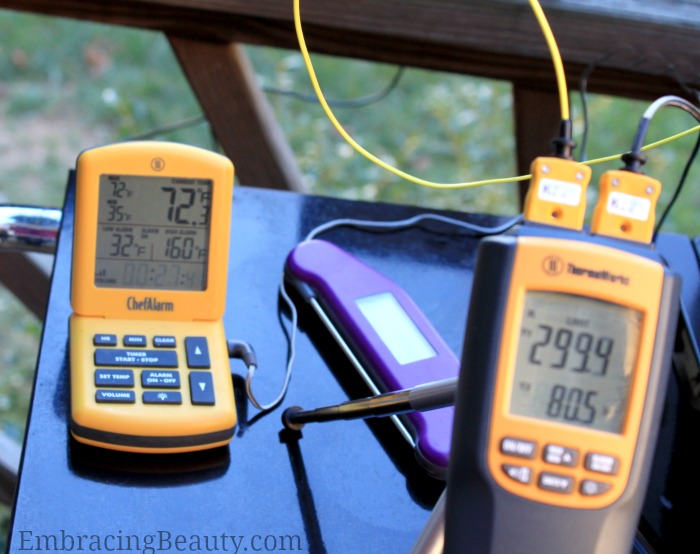 One thing you cannot do with a Thermapen, however, is leave it in the oven/grill while the food is cooking.  You can use it to check on the progress of what you are cooking but it is often nice to not have to open up the oven and check.  That is where my new toy comes in to play.  The ChefAlarm (link) is a new product from ThermoWorks that connects to probes that you can insert into the food and leave in during the entire cooking process.
There are two compatible probes with the ChefAlarm, the Pro-Series High Temp Cooking Probe (included) and the optional Pro-Series Needle Probe that is ideal for thin cuts of meat and/or sous vide.  Designed for use in commercial kitchens and professional settings, the Pro-Series Probes deliver better accuracy, faster readings, unique designs, wider temperature ranges and better moisture-resistance than the probes sold with low-cost "houseware-grade" temperature alarms.
The probe then connects to the ChefAlarm which displays the temperature of the probe, allowing you to monitor the internal temperature of your food without having to open the oven/grill.  The ChefAlarm display provides a lot of useful information including the minimum and maximum temperatures since being turned on/plugged in and the current temperature is displayed in a very large font that is easily visible at some distance at a glance (in either F or C).  In addition to these current and historical temperature measures, the ChefAlarm also serves as a timer so you can monitor time and temperature all on a single display.  The timer can count down with an alarm or it can count up.  The alarm is adjustable up to 92 dB which can be heard even in a noisy kitchen.  There is also an option to set alarms for high and low temperature thresholds.  Other features include a backlight, splash-proof design allowing you to use it by a busy stove, and is available in 9 colors.  The ChefAlarm folds up to show the display when setting on a counter and it also has a magnetic back allowing it to lay flat on metallic, vertical surface.   ChefAlarm includes unit, Pro-Series High Temp Cooking Probe, SST Probe Clip, Operating Instructions, and Padded Zip Wallet that neatly holds everything.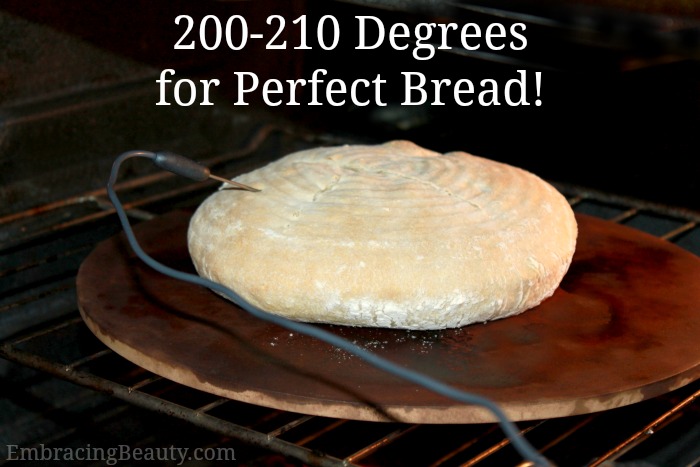 I have tried this product on several things so far both in the kitchen as well as the grill.  Used in conjunction with the Thermapen, it is a great way to cook large cuts of meat.  Both products have shortcomings for this (Thermapen can't be left in while cooking and ChefAlarm can only check the temperature of the one spot you placed the probe), but together they work really well.  Embracing Homemaking has a wonderfully informative article on using the ChefAlarm in conjunction with a Thermapen to cook the perfect holiday turkey.

With a new baby due close to Christmas this year, we will be having our first Christmas at home this year and with that our first time cooking a turkey!  I have planned to grill it and have already done a practice turkey breast.  The ChefAlarm and Thermapen combination took all the guesswork out.  It was a practice turkey and I did end up overcooking it a bit but professional equipment can only cover up so many sins of a bad cook!  I broke a cardinal rule and apparently placed the ChefAlarm probe against a bone and that through off my reading.  But like I said…it was a practice turkey!  I am confident I'll be able to nail the real one.  So far, I've also tried the ChefAlarm cooking a wonderful pot roast (target temp 135F – 145F for medium), baking some sourdough bread (target temp 200F-210F), and cooking some chicken fingers in a deep fryer (target temp 165F).  Having the leave-in thermometer with the alarm set really reduces the chances of overcooking anything.  I love my Thermapen and I now love the ChefAlarm, but together they are a perfect combination.
The ChefAlarm would be a perfect gift for any griller or cook on your Christmas shopping list and now is the perfect time to shop for them as they currently have a "buddy sale" going on where you can get 2 for $52 each (regular price is $59).