Have you seen the new Infantino Comforting Play collection that has hit the stores?  You know, the toys you can spot a mile away because of their cuteness!  I am completely obsessed with adore the Infantino brand.  Their products are innovative, fun, and downright adorable!  Infantino's latest play collection is no exception.  With their attractive colors, soft textures, and cute characters they are sure to please.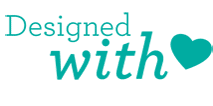 I was thrilled when I was chosen to be a part of Mom Central's Infantino Test Drive Mom program.  Infantino is one of my top  favorite baby toy brands.  My first product to review was actually a box full of toys!  When it arrived a few weeks ago I felt like a kid on Christmas morning.  I loved opening each toy and trying it out with my little one.  Now I'm ready to share these new products and my opinion with you!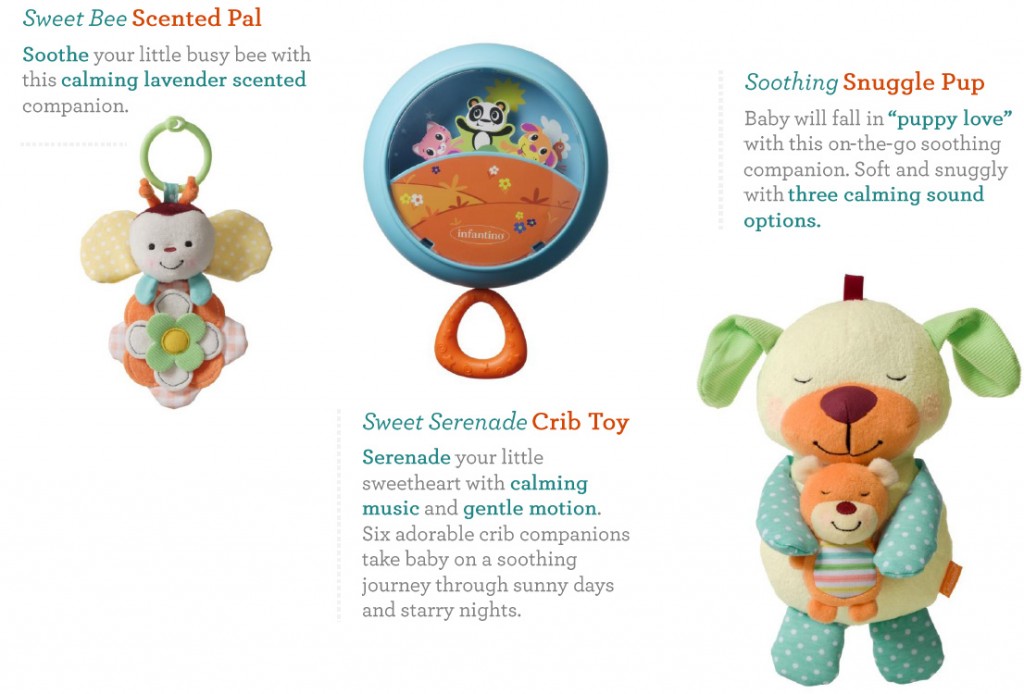 I'll start off with my husband's favorite toy.  He couldn't get over the Snuggle Pup!  It plays soft music and gentle sounds to soothe your little one.  He loved that we can hook it on the crib now and later when our daughter is older we can give it to her to snuggle with.
The Sweet Bee Scented Pal is one adorable toy!  It can hang from just about anything (car seat, bouncy seat, etc.), it has a calming lavender scent, and it's wings are crinkly to help promote development.  It's a winner in my book!
My little girl's favorite would have to be the Sweet Serenade crib toy.  She loves to listen to sounds and almost instantly stops crying when music is played.  To activate it you gently pull the string and soothing music will start playing and the characters will dance around.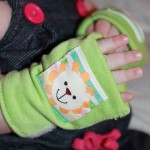 My daughter also loved the Soothing Hand Squeezies.  These look like little boxing gloves with the fingers cut out.  : ) It gives little fingers the freedom to explore and when they're ready there is a soft little pouch on each glove for them to squeeze.  It was designed to stimulate squeezing a mom's finger.  Love it!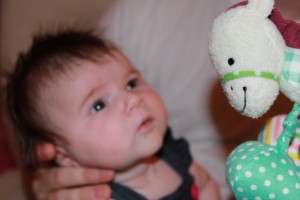 My little one is a bit too tiny to fully appreciate the Hug & Tug Wooly Pal but I think she enjoyed looking at it.  One day soon she'll be able to tote it around with her and give it the affection it deserves!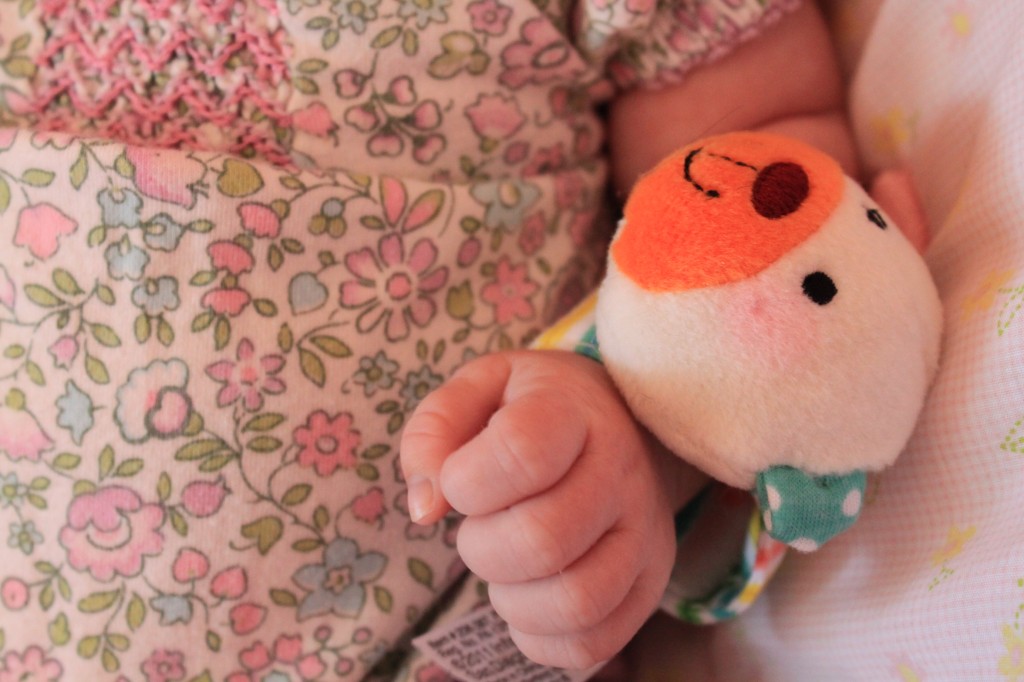 The Wrist Rattles were a big hit but as you can see in the picture they are quite a bit too big for her tiny arms.  She loved the Foot Rattles!  I'm not sure if she made the connection between the noise and her kicking her legs but she was so cute to watch!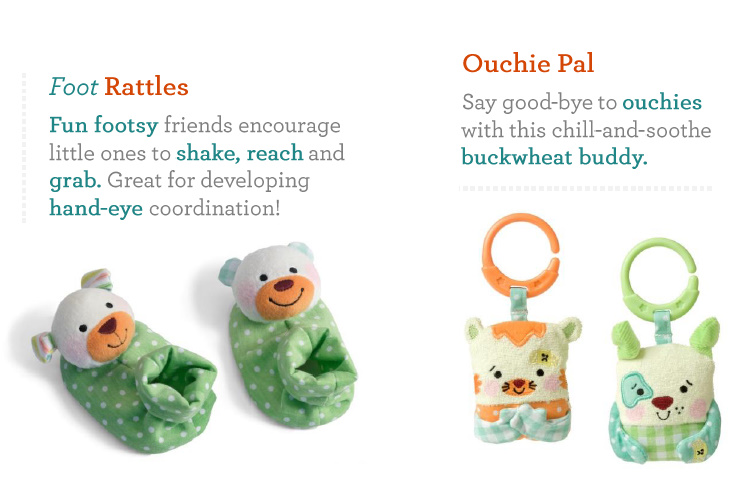 The Ouchie Pal is a buckwheat buddy one minute and an ouchie soother the next!  It's designed to be calming to play with and can be cooled in the fridge to help sooth bumps and bruises.  How clever!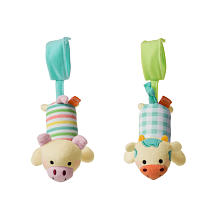 The Tag-Along Chimes were my favorite new toy!  They are sweet looking but mainly like them because they aren't annoying!  I can't be the only one who thinks most rattles and chimes are painfully annoying, am I?  These chimes aren't loud and obnoxious but have a sweet, soft, little jingle to them.  These definitely belong in the Comforting Play collection; they are very soothing.  I actually enjoy listening to them!
We didn't get the chance to review the Binkie Buddy and 1-2-3 Teether.  Our sweetpea isn't chewing on anything just yet but I'm sure she'll love the variety of textures on the 1-2-3 Teether when she is.  As for the Binkie Buddy, well, I don't think we'll ever get the chance to review it with this baby.   She couldn't care less about a pacifier so I think we'll give this cute toy a good home with another new mom.  Maybe I'll buy a Snuggle Pup and Tag Along Chimes to go with it!
My thoughts overall:
In one word, awesome!  Each toy is soft and soothing.  The neutral color palette makes this the perfect for any baby shower!  Depending on the size gift you wanted to give you could group three or four of them together or if you are really close to the person you might want to give them all 11.  I'm sure they will love them!  I think the Sweet Bee Scented Pal, the Hug & Tug Wooly Pal, or the Tag Along Chimes would make great decorations to the top of any gift box or tied gift bag you give.  Ooor if you're someone who likes to give diaper cakes you could easily incorporate a few of these cute toys to really take the cake!  Take the cake.  Get it?  haha  Oh, never mind.  Whichever way you group these toys I'm almost positive the recipient will adore them!
Infantino is very active in the social media world.  You can "Like" Infantino on Facebook, follow Infantino on Twitter and subscribe to Infantino on YouTube.
Disclosure: I am a participant in a Mom Central Consulting campaign for Infantino and have received various Infantino products as part of my participation.