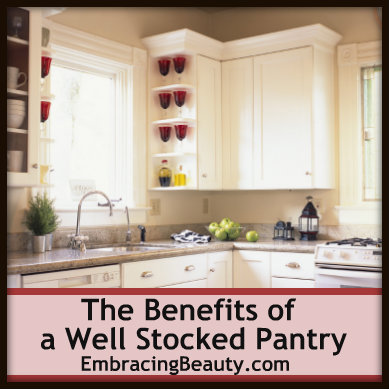 This is the last week for my guest posting stump for Embracing Beauty.  I am so grateful to Ashley for this opportunity to share my experiences with food allergies and frugality.  I hope that it has been helpful to you as well.  Many blessings to you, Ashley, and your sweet family.
If you want to know more about food allergies and how to live frugally with them, you can find me everyday at The Willing Cook.  If you ever have any questions or requests, don't hesitate to let me know.
I came across a post recently that mentions the cost savings of having a well-stocked pantry/freezerand I thought that it would be a great "extra" post for the Frugal Food Allergy Living series.
Living a frugal lifestyle can be a daunting task.  Throw in food allergies and you have a real challenge on your hands.  But challenges are good, right?  Personally, I get a sense of satisfaction out of saving a few dollars at the grocery store, especially allergy-friendly foods, and creating healthy, safe and delicious foods for my family.
It is easier to accomplish frugal food allergy living when most of your ducks are in a row.  On top of the list is having a well-stocked pantry.  While it is an inconvenience to not have enough eggs for the cookies you are making to take to your son's birthday party at school, you can always borrow an egg from a neighbor.  What if your son has an egg allergy and you are completely out of egg replacer? You can't simply borrow egg replacer.
Having a well-stocked pantry is…
Convenient
Saves money
Essential for food allergies
A well-stocked pantry is convenient.  There is no arguing with this point.  It's a pain to be in the middle of cooking and realize that you are missing a key ingredient.  It can change an entire dish.
A well-stocked pantry saves money.
You can stock up on the pantry essentials when they are on sale, instead of being forced to pay full price.  If you find that you have to make a quick trip up to the over-priced corner store to pick up that missing item, you are going to pay more.
You save on gas and time when you don't have to make that spur-of-the-moment trip to the grocery store for that one missing item.
If you have to make a quick run to the store, you are more prone to put other items into your basket that may not be on your grocery budget.
A well-stocked pantry is essential for food allergies.
There are not always easy substitutions for missing allergy foods.  Substituting for the "real" thing is simply not an option; in fact, it is dangerous.
You cannot easily borrow an ingredient from a neighbor.
The small corner grocery store is less likely to carry a good selection of allergy-friendly foods causing you to make a trip to the larger grocery store.
Specialty allergy foods are not always the cheapest products on the grocery shelves.  It is good to save a little money by stocking up when they go on sale, not in a last minute state of desperation.
Here is my list for a well-stocked food allergy pantry that I posted a while back.
What can you add to this list? What are your reasons for having a well-stocked pantry?  What do you include in your well-stocked pantry that I don't have on my list?