Our family recently had the opportunity to review a new type of building blocks called Smarks.  Smart + Blocks = Smarks Get it?  While it may take hearing the name a few times to remember it I'm sure you won't soon forget these blocks!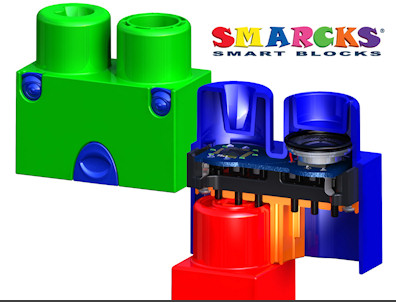 What they are:
To put it simply, they are very sophisticated, interactive, talking building blocks.  How this works is pretty awesome!  From TalkingBuildingBlocks.com, "Inside each Smarck is a sophisticated microprocessor which allows the Smarck to recognize and remember the blocks it is stacked on.  The microprocessor is protected by an epoxy coating.  Under this protective coating and viewed microscopically you can see the fine connecting wires linking the die bonded microprocessor to the Smarcks 6 buttoms, 4 LEDs, speaker, power supply, and other electronic components."
Smarcks come with regular building blocks as well as talking ones.  It's easy to tell the two apart because the talking ones have faces.  How cute!  Smarks have a higher quality construction than most blocks and it was easy to tell this when playing with them.  The plastic is sturdier than any other blocks I've seen which gives me confidence that they will hold up through multiple kids playing with them.
Typical building blocks are great for development and help children learn problem solving skills, balance, and fine motor skills.  Smarcks: Smart Blocks helps teach and develop those and much more!
Smarcks teach:
Colors
Counting
Good Manners
Math
Music
Nursery Rhymes
Shapes
Spelling
Video of Smarcks Talking Kids Building Blocks
My thoughts: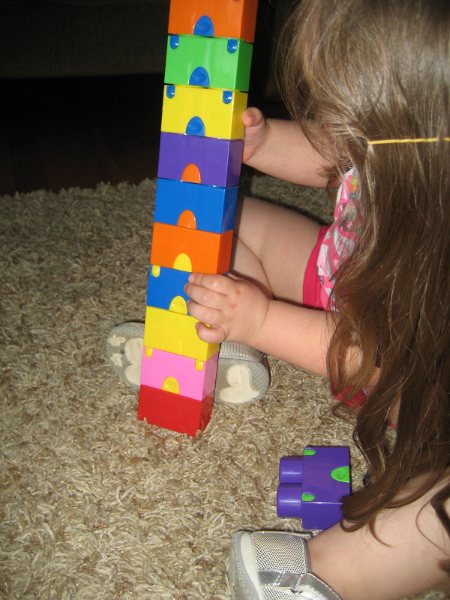 I loved them!  Everyone we've showed them to loved them whether they were adults or kids.  Each talking block comes with it's required battery but if it ever dies you can simply take a tiny screwdriver to the bottom of the blocks and replace it with another AAA battery.  While using a screwdriver to remove the old battery is kind of a pain it is nice and reassuring to know that the bottom won't fall off over time and expose my child to wires.  I liked that it was a AAA battery inside and not an expensive watch battery or an irreplaceable one.  By the way, none of the batteries have died yet but I was curious if and how I could replace them when the time comes.
The talking blocks come with a voice that is friendly and clear.  I was worried that they might be too loud to be tolerable but they aren't too loud at all.  Just about all kids love building blocks, right?  …and kids usually gravitate towards the toys that talk or play music, right?  Well, with Smarcks you have the best of both worlds!  These blocks are fun to build with and sing-a-long to so they will keep your kid entertained (and learning) for longer.
Smarcks come in a sturdy plastic storage container which I loved!  It's nice to have a "home" for them to go without having to buy a separate storage bin.  These blocks haven't stopped amazing me yet!  We've played with them multiple times and I'm always learning something new.  One thing I recently learned is that each talking block has a tickle spot where if you press a combination of the little buttons on the bottom each block will laugh.  Each block's combination is different but you can go to their website to learn the tricks.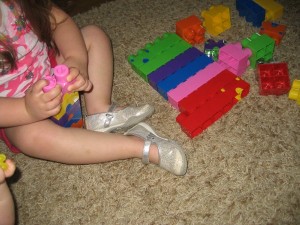 The Nursery Rhyme Blocks may be my favorite because they are a little complex.  For example the red nursery rhyme block plays one line of the Itsy Bitsy Spider at a time and you have to keep moving it for it to keep playing.  To hear the first line you place the red block on a 2 block, to hear the second line you place it on a 3 block, and so forth.  For a visual and audio demonstration visit Nursery Rhyme Block secrets.
The Monkey Math Blocks are cool too!!!  Can you tell I love these?  Here's a good explanation of the Monkey Math Blocks from their website, "If you stack the Monkey Math Block on any two blocks it will play the monkey song starting with the sum of the two blocks it was stacked on.  For example, if you stack it on the green three block and the red four block it will play 7 Little Monkeys Jumping On The Bed…because 3+4=7.  If one monkey falls of the bed then how many are left?  The block will only talk again if you stack it on two blocks that add up to 6.  You have to continue until you reach 1 before you can start again."  To see and hear the Monkey Math Block in action go to the Smarcks website for a demonstration.
I could go on and on about the different Smarcks blocks but I'll stop here.  You'll just have to go buy yourself a set! : )  They are reasonably priced too!  Not to mention, the 90 day 100% money back guarantee!  With a purchase you'll not only be getting a product that your kids will love and learn from but you'll also be supporting an entrepreneur, which you know I'm always a fan of!  So go ahead and order an early Christmas present while you can get 35% savings!
For the month of May, Embracing Beauty readers will get a special discount on a complete set of Smart Blocks valued at $152.  Which means you'll save save $53 (35%)!  Enter the coupon code "ASHLEY" to receive this special discount price of $99.
A complete set includes the following:
·        70 Piece Building Set
·        Red, Green, & Yellow Color Blocks
·        Pink, Purple, & Orange Color Blocks
·        Nursery Rhyme Blocks
·        Counting, Shape, & ABC Blocks
·        Math Blocks
·        Music Blocks
Disclosure: I was given a set of Smarcks blocks to facilitate my review but my opinions are completely my own.  I was not compensated for this post.