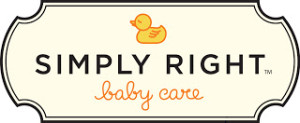 I tried cloth diapers.  I did, I gave it a try!  To tell you the truth I loved them but my husband never really jumped on board.  Because he wasn't totally in love with the idea I backed off and used them a few times a week through the day so he never had to deal with them.  Lately though I've just been using disposable diapers.  After using cloth diapers, I have to say that I'm a bit of a diaper snob.  It's not that I look down on others for what they use but I want to use the softest diapers I can find.  Being the girly girl that I am I've always wanted to use the cutest diapers I could find too.  Being snobby about diapers meant that I didn't try store brands.  Ever.  That was until I received the opportunity to work with Sam's Club and review their Simply Right baby care line.  I had a lot of friends who used this brand so I knew it couldn't be too bad and I figured why not give it a try?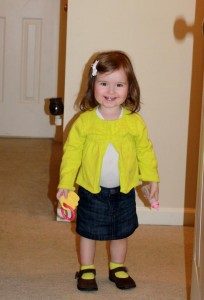 Here's my little girl sporting her new diapers.  Yes, she has clothes on top because I'm not one to show pictures of my baby's bum.  I'm just not.  We received the size 3 diapers which is the size she wears in our other brand and they fit great.  They have stretchy side tabs which I like so I can get the diaper customized to fit my little one.  Plus, these stretchy tabs help to make the diaper as compact as possible when disposing of it.  Even though diaper bags aren't too expensive I still try to save all I can by fitting as many diapers as possible into each bag.  The material of the diapers is nice.  It's not overly soft but it doesn't sound like she has a plastic bag in her pants either.  You know what I'm talking about, you've heard kids like that, right?
I was truly surprised that I liked these as much as my regular diapers.  I might like them more than my regular diapers if they had a fun girly pattern on them.  If you're listening Sam's Club, I think pink plaid or pink floral would be cute!
The Simply Right baby wipes are strong and strong at the same time.  They are a good bit thicker than the sensitive wipes I've been using from another brand.  I know a lot of people like the thicker wipes but this would be something I would have to get use to.  They wipes cleaned well, never tore, and were fragrance free.  Plus, I read that they have a soothing Aloe & Vitamin E included in them to help clam delicate skin.  Even though I might not use them for my baby's bum because it will take a while to get over what I'm use to using I'll still use them to clean up  little hands and messes.  I like that they are safe and gentle for my baby's skin so I could even use it to clean her dirty face.
I was told that Sam's Club members saved up to $392 a year by purchasing these Simply Right baby products.  I don't know about you but I could do a lot with $392!  Office redecoration, new clothes, or a vacation!  Oh, the possibilities are endless!  What could you do with an extra $392 a year?
For a FREE sample of SIMPLY RIGHT™ diapers or wipes, visithttp://simplyrightbabycare.com/sample.html today!
This is a sponsored post written by me on behalf of SIMPLY RIGHT™ Baby Care Products.