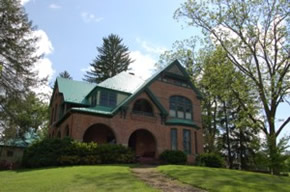 My husband and I just took a little mini vacation to Tennessee and I thought I would review the B&B we stayed in in case you are ever wanting a relaxing inn to visit.  You ready?  Oh, and be sure to scroll to the bottom of the post to score great deals on discounted rooms!!!
My husband and I have visited here the past four years and we absolutely adore it.  Every time I come I think about writing you and telling you how wonderful it is!  We always stay in the same room, the Rose Room (room 2).  It's a gorgeous room with a beautiful view, stain glass windows, nice fireplace, and glowing flickering candles.  There is a sink downstairs in the corner of the bedroom but upstairs, at the top of a winding staircase is a full bathroom.  There is a whirlpool tub for two with the best bubble bath in the world (I need to find out what kind it is!).  Along the side of the tub is a line of votive candles just waiting to be lit.  The shower is roomy with seating for two and a beautiful, unique mountain mural made from tiles.
T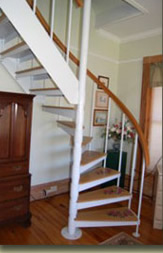 he room itself is set apart, private, and perfect but that's just the beginning.  The B&B's owners Judy and Robert Hotchkiss have always gone out of their way to make our experience special.  They leav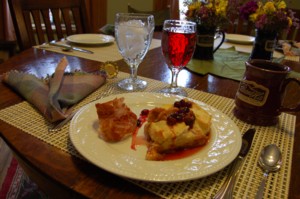 e chocolates by the bed, a snack basket with bottled water that is refilled daily, and this last visit we were greeted with mini carrot cakes in our room.  They supply the room with votive candles, wine glasses, and even a romantic cd.  Each breakfast there has been delightful.  We're given ice water, coffee, tea, juices, fruit and then a hearty, delicious breakfast.  My favorite is the cranberry french toast!
Robert and Judy are the sweetest people you'll ever meet and are always a joy to talk to.  They have recommended some amazing places to have lunch and dinner at.  In case you want to stop by, our favorite local dinner spot is Subas.  This last visit they even helped us find unique gifts for the hosts of our upcoming baby showers.  Robert and Judy are friendly and personable and make the visit even sweeter.
Now that I've shown you my favorite room, I'll give you a peek into a few other rooms available at Prospect Hill.
Room 3, also known as the Garden Room.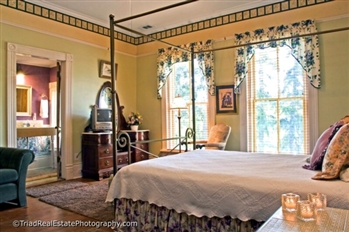 Room 4, is a room made for romance, the Hideaway.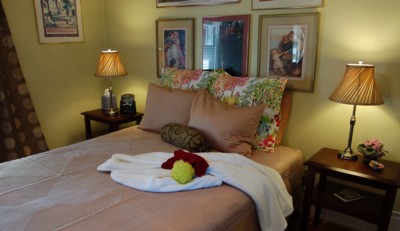 Look at this gorgeous bath in Room 4!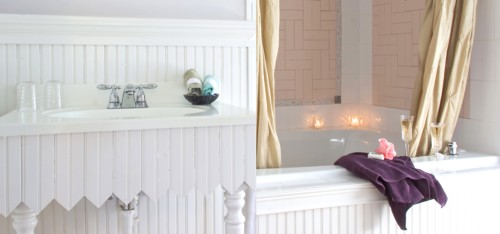 Okay, now for those special rates I was telling you about!
Are you a NASCAR fan?  Do you love a restful nights sleep and avoiding heavy traffic?  Well I have a deal for you!
Who says you can't mix romance and NASCAR racing?

When you book a room at the nicest B&B in the region for March 18-20, 2011 you will get 25% off!
The 3 night minimum has been reduced to 2 nights.
Plus when you stay 3 nights you'll receive one free dinner entree at  the Tributary on Main restaurant!

Prospect Hill is just 32 miles/50 min. from the Bristol Motor Speedway with no traffic problems or waits.
Race tickets are still available- call the track for discounts or purchase them at Ticketmaster.com.
March 18th-20th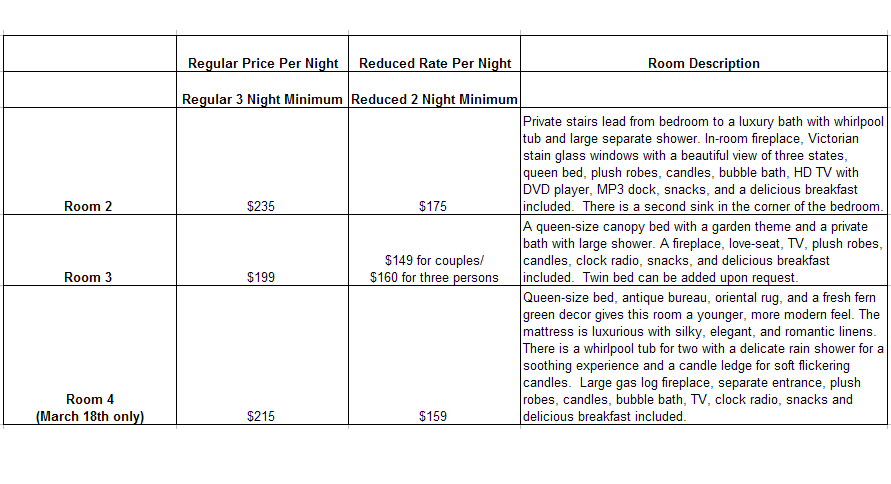 All rooms include use of candles, plush bathrobes and private fireplace, free snack basket and chocolates, and a full breakfast that is sure to delight.  For your convenience there is a guest refrigerator for storing food you may want to take to the track.
The fine print:
Reservation required; subject to availability. Cancellation policy applies.  Credit card required at booking. Tax not included. Not valid with other offers.
Prospect Hill
801 W. Main St./ Hwy. 67
Mountain City, Tenn. 37683
Highlights:
Affordable luxury lodging
32 miles from Bristol
Spacious private rooms
Hearty & delicious breakfast
Good selection of pre- and post-race activities from golf to hiking to shopping
Discover a better way to sooth stress and reconnect with an affordable stay at a revitalized country mansion.  Tranquilize tension with a relaxing stay at Prospect Hill in Mountain City, Tennessee.
Nested in the midst of the stunning Appalachian Mountains, this 1889 built mansion resort treats travelers to a galvanizing medley of activities and burden-lightening luxuries fit for singles, couples, and families alike.  Adventurous types may opt for local equestrian trail rides, hiking, fishing and bike rentals.  For more laid-back activities adults may unwind with local golf, shopping, or spa and salon services.  There are many ways to customize your visit so be sure to peruse the area activities online after you book your ideal escape.
Reviews:
I've selected reviews to share here but to view all reviews visit Prospect Hill Reviews.
14 TripAdvisors gave Prospect Hill an average of 4.5 owl eyes.
This is a wonderful B&B set in the middle of the mountains. My husband and I stayed here whilst driving down the Blue Ridge Parkway and it was a wonderful way to break up the driving.  Everything has been thought of by these hosts, the result being a very relaxing, hospitable B&B.
Our room was lovely – the bathroom in particular was very luxurious. Having a view of 3 states was also pretty cool. – Mr&MrsRees London, UK
After spending several days at this lovely B&B, we can't wait to go back. Our room was very clean and all the details were thought of. The full breakfast each morning was awesome. The hosts, Robert and Judy Hotchkiss, were so accommodating and helpful.  We enjoyed everything about our experience at this place and we can't wait to go back. – Billandbeau Charlotte, NC