Congratulations to Jessica P, Elizabeth K., Kathryn, & Rachel.!
Preggie Pops may very well be one of the best and most inexpensive gifts for expectant mothers.  More than 50% of pregnant women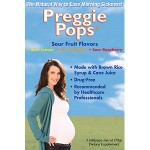 will experience morning sickness in their pregnancy.
Some doctors have recommended various methods and treatments for getting rid of this problem. Some say to eat small and frequent meals. Some recommend using sea-sickness bracelets to deter nausea. Preggie Pops is a safe and natural way to help combat nausea.
Since I'm pregnant and still battling with morning sickness I was excited to give Preggie Pops a try.  Like any other mom who has ever suffered morning sickness, I was willing to try anything and candy sounded nice even if it didn't work. : )
Preggie Pops looks too simple to be true but easy and affordable enough to give it a try. They appear to be mere lollipops that come in a pack of seven.  I received a sour package which included the following flavors: Sour Tangerine, Sour Lemon and Sour Raspberry. Since I love candy, I hoped Preggie Pops would be the solution for me.
By the way, Preggie Pops' parent company Three Lollies recently introduced Preggie Pop Drops to the world.  These have the same safe and active ingredients as Preggie Pops without the stick.  Three Lollies sent me a package of each to review.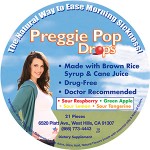 I first previewed Preggie Pop Drops when I knew I was going to be out of the house for a few hours and away from my precious stash of goldfish and saltines.  I went to a marriage conference with my hubby and a couple friends of ours (it was amazing by the way!).  I threw three drops in my purse to help me manage my nausea as I would be away from snacks for quite a long period of time.  To my surprise I LOVED them!  Now, I can't stress to you how much I dearly love these.  I leaned over during the conference to tell my husband how great they were and he just laughed at me.  I guess I was expecting them to be kind of bland and boring but they weren't at all.  I know the question on everyone's mind is "Did the nausea go away?"  The answer is an easy one, yes, it sure did!  The Preggie  Pop Drops were yummy, got rid of my dry mouth, and kept my nausea at bay, this is a wonder product ladies!  As you can imagine the Preggie Pops are just as great.
I'll probably stick with my multiple small meals through the day but when I'm going to church I will be sure to stash a few drops in my purse or when I go to the grocery store I might carry along a pop with me.  If I worked outside the house these would never leave my side!
For more info on Preggie Pops check out Preggie Pops FAQ.
Three Lollies is gracious enough to give some goodies to 3 Embracing Beauty readers!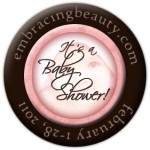 Here's how to enter:
Be sure and leave your email in the email address field so I can contact you if you win!
Mandatory Entry
Leave a comment below stating the flavor you would most like to try.
The offer sour raspberry, sour lemon, sour tangerine, lavender, ginger, spearmint, & peppermint.
The above entry is mandatory. If you would like additional entries, you may do any or all of the following (and leave me a separate comment for each telling me you've done so):
Submit this giveaway to any current online giveaway Linky's: Unlimited extra entries! You'll get one entry per site you submit it to; the site's linky must be new within the past 7 days. You can also submit to online contest listings/forums. (Leave the site you submitted it to and the date in your comment)
Enter any other Baby Shower giveaway and leave me a comment with the giveaway you entered.
Like Beauty4Moms on Facebook and leave me a comment with your name. (ex. JoAnn Smith or J. Smith)
Subscribe to the Embracing Beauty's email newsletter: Enter your email address here. All entries will be verified to ensure the email address is confirmed.
Subscribe to the Embracing Beauty's RSS feed in a reader: You can do this by clicking here and adding this site to your reader.
Add Embracing Beauty to your Blogroll or post my button on the sidebar of your blog: My button can be found on the right sidebar.
Add Embracing Beauty's Baby Shower button to the sidebar of your blog: Also found on my right sidebar.
Follow @Beauty4Moms on Twitter and tweet exactly the following: I just entered to #win Preggie Pops @Beauty4Moms http://bit.ly/frbEiO #Giveaway You can do this once per day, just leave a separate comment with your Twitter ID and a link to your tweet in your comment.
Good luck everyone!
Contest Details: Contest ends on 3/14/2011. Valid email address is required. All entries without a valid email address will be disqualified. Winning email notification must be responded to within 48 hours or that winner will forfeit the prize and a new winner will be selected. Winner will be selected with Random.org. Winner will be notified via email.
Disclosure: The product mentioned above have been given free of charge from the company in exchange for being featured on Embracing Beauty. The views and opinions expressed were 100% my own and not influenced by the company.