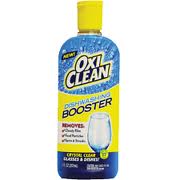 Have you tried OxiClean Dishwashing Booster?  I haven't yet but since it is a moneymaker at Target this week I had to pick up a bottle to give it a try!  It's originally $3.99 but I spotted Try Me Free rebate peelies on many of the bottles.  You can send in your rebate to get this product for free or use a coupon and send in the rebate to turn this deal into a moneymaker!
Rebate Requirements:
Purchase OxiClean Dishwashing Booster by 10/1/12.
Mail your receipt and UPC code to address provided in Try Me Free rebate peelie.
Submissions must be postmarked by 12/1/12.
Receive rebate for purchase price, up to $5.00.
OxiClean Dishwashing Booster – $3.99
Use $0.75/1 OxiClean Dishwashing Booster from SS 6/10 (exp 8/31)
Pay $3.24 & Mail-in rebate form
Final price: $0.75 Moneymaker!