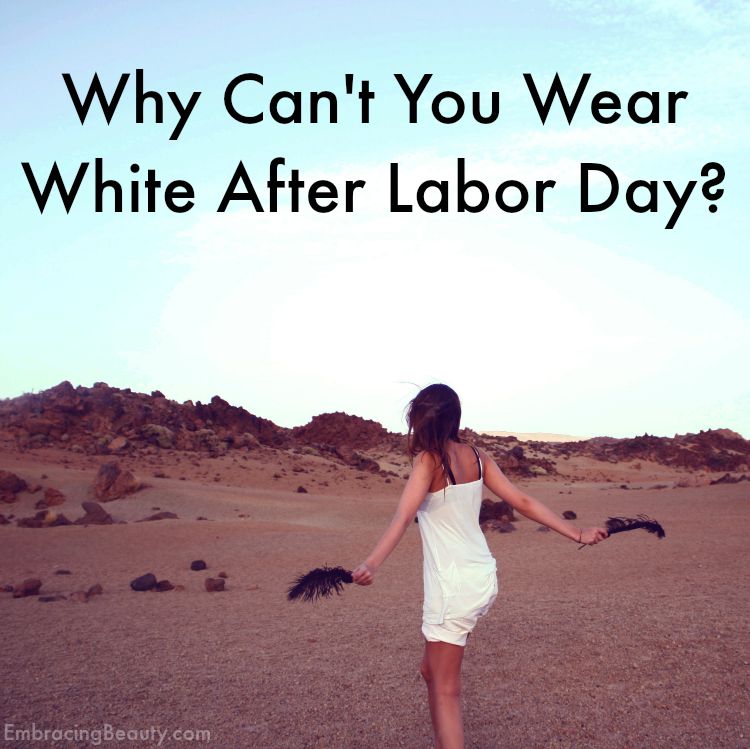 The long standing fashion rule states that you shouldn't wear white clothes or shoes before Memorial Day and after Labor Day has been around for hundreds of years.  My grandmother still follows this rule to this day.  I used to comply but I just like wearing white too much!  Besides, here in NC September doesn't really feel like fall at all.
Where did this tradition come from?
The Emily Post site says,
In the nineteen 00s, 10s and 20s… the summer season was bracketed by Memorial Day and Labor Day. Society flocked en masse from town house to seaside "cottage" or mountain "cabin" to escape the heat. City clothes were left behind in exchange for lighter, whiter, summer costumes. Come fall and the return to the city, summer clothes were put away and more formal city clothes donned once more.
Mental Floss says there were class distinctions behind this rule.
The wives of the super-rich ruled high society with an iron fist after the Civil War. As more and more people became millionaires, though, it was difficult to tell the difference between old money, respectable families, and those who only had vulgar new money. By the 1880s, in order to tell who was acceptable and who wasn't, the women who were already "in" felt it necessary to create dozens of fashion rules that everyone in the know had to follow.  Not wearing white outside the summer months was another one of these silly rules.
Whatever the reason it started I don't think it's important to continue.  The takeaway fashion rule, in my opinion, is wear what's seasonably sensible.
If you're going to wear white, I suggest grabbing a pack of U by Kotex® Lightdays® Liners to keep you fully fashionable!  Visit #bringcomfyback, where you can upload your own #bringcomfyback selfie to get a $1 off coupon and enter to win some amazing prizes.