Congratulations, Elizabeth K!
The drop is a cool mist humidifier with a modern & sleek design made by Crane USA.  Cool mist means that it doesn't boil the water to generate steam.  It has a 1 gallon capacity tank but shoots out 2.1 gallons of mist.  The design is not only elegant but simple to use.  Fill the tank with water and turn the dial for a jet of mist to burst out of the 360º nozzle.  The mist should shoot straight up and dissipate into the air.  If it shoots up and falls to the ground, you have the dial turned too high for your home. Cleaning this humidifier couldn't be simpler.  There are no filters to clean or replace!!!  That may be one of my favorite features.  The entire tank is removable and there are no tiny parts to worry about.   Just wipe each of the three pieces down with an equal mixture of water and vinegar.  If you notice calcium build up after a couple uses, you may want to switc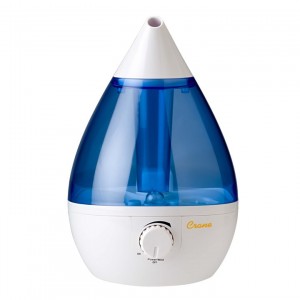 h to using distilled water.
Many people think humidifiers are just a seasonal thing but humidifiers are great year round.  In the winter months running a humidifier helps my skin and in the summer it helps with my allergies and nasal congestion.  The rise in humidity provides noticeable relief all year long.  This is another favorite feature, for those busy moms who may on occasion forget to turn it off, it's no problem because the unit automatically shuts off when it is low on water.  The manual says it can work in a room several hundred square feet so if you've got multiple rooms, buy a few and spread them out because they barely use any power and they are totally whisper quiet.  Seriously, my refrigerator makes more noise than this.
It is the absolute best looking humidifier in this affordable price range.  Everything else looks like medical equipment from the 80's, am I right?  I have my humidifier in my bedroom at the moment but plan to transfer it to my nursery when it becomes occupied.  The drop humidifier is so sleek that it would even be a great piece to add to any living room end table.
Features:
Provides relief for cough, cold and flu symptoms
Supports easier breathing and congestion relief from allergy and asthmatic type symptoms
Provides moisture for dry coughs, sinus irritation, dry skin
Whisper-quiet operation
Moisture output up to 2.1 gal. per day
What I loved:
Simple & clean design
Easy to assemble, just 3 pieces
No replacement filters needed
Small capacity tank, large results
360º nozzle to point the mist where you want
One-touch dial operation
Beautiful colors to choose from (blue/white, pink, orange, or green)
Retails for under $50
Crane also makes other fun character humidifiers that are great for nurseries and kid's rooms.  You can check out all their current designs on their Facebook site.
Ready to
win a Crane humidifier of your choice
?  Here's how: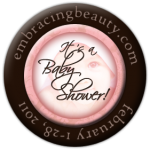 –   Join the Beauty4Moms community on Facebook & "like" Crane's Facebook page (do both then leave your FB display name in your comment).
The above entry is mandatory. If you would like additional entries, you may do any or all of the following:
Subscribe to the Embracing Beauty's email newsletter: Enter your email address here.  All entries will be verified to ensure the email address is confirmed.
Subscribe to the Embracing Beauty's RSS feed in a reader: You can do this by clicking here and adding this site to your reader.
Add Embracing Beauty to your Blogroll or post my button on the sidebar of your blog: My button can be found on the right sidebar.
Submit this giveaway to any current online giveaway Linky's: Unlimited extra entries! You'll get one entry per site you submit it to; the site's linky must be new within the past 7 days. You can also submit to online contest listings/forums.   (Leave the site you submitted it to and the date in your comment)
Follow @Beauty4Moms on Twitter and tweet exactly the following: I just entered to #win a Crane humidifier @Beauty4Moms http://bit.ly/gHGH1V #Giveaway You can do this once per day, just leave a separate comment with your Twitter ID and a link to your tweet in your comment.
Don't forget to check out all the other great giveaways happening during this Baby Shower!
Contest Details: Contest ends on 3/4/2011. United States residents only. Valid email address is required. All entries without a valid email address will be disqualified.  Winning email notification must be responded to within 48 hours or that winner will forfeit the prize and a new winner will be selected. Winner will be selected with Random.org. Winner will be notified via email.