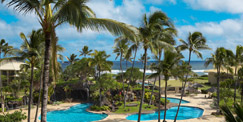 Are you thinking about planning a trip to Hawaii in the future?  What about, wanting to go but thinking that there is no way you could possibly afford it?  That's probably where I'm at.
My friend spent a few years in Hawaii with her husband and I just love to see their pictures on Facebook.  It's gorgeous there!  One thing I've always want to do is swim in a crystal clear blue ocean.  I guess you could say that it's on my bucket list.  While browsing around on Pinterest I kept finding beautiful pictures tagged with the name Aqua Resorts.   I ran into it so many times that I decided to check it out.  I don't think that was a good thing to do.  This place looks like paradise AND they have affordable options.  Seriously!  Of course I would still have to buy airfare but I'll try not to think about that right now.
As I sit here dreaming about day dreaming on the shore side I'll share some of Aqua Resorts' coupons/deals with you.  Who knows?  Maybe you can send me a picture of you there!
From the Aqua Resort website:
Help save a vet & save on rates! Write a thank you card to a veteran and enjoy 10% off our best available rates at all participating Aqua Hotels. Plus, when you book the Mahalo To Our Veterans rate, a portion from every sale goes to support the U.S. Veterans Initiative, Hawaii Chapter, Barbers Point Homeless Veterans Program.
Aqua is celebrating local style with Hawaii's favorite footwear, and we invite you to go local and slip into savings! Book the Slip into Savings rate, show us your slippers (flip flops) and save 10% off at participating Aqua Hotels on Oahu, Maui, Kauai, Molokai.
In conjunction with the remake of the classic hit TV show, Aqua Hotels & Resorts is offering an "Aqua Five-O Special" at its 12 hotels in beautiful Waikiki. Only $50 for the first night in Waikiki.
 Book* at least 60 days in advance and save 15% on your next Hawaii vacation. Call866-971-2782 for details.  *Full prepayment required at time of booking. Non-cancelable or refundable.