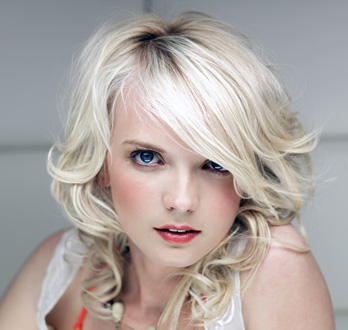 1.  Start with a great cut.
The best way to tell a great cut is that it falls right into place and takes little effort to style.  If your hairdresser spent 30 minutes or more fighting with it to get your finished look, the chances are slim that you'll be able re-create the look at home.
I great foundation is necessary for a great style.  The good hairdresser will take your hair into account.  That is, the physical components of your hair, including texture, curl, density, facial shape and so forth.
It's also a good idea to tell your stylist what you don't like about your hair (how full it is, the frizz, how it falls flat in humidity), and ask for solutions.
Be upfront with your stylist and chances are, you'll get the great cut you want.
2.  Don't overuse products
If you gel, then a shiner, then add hair spray to top it off, you'll end up with flat dull-looking hair that might even have a sticky feeling to it.  A small amount of product will give you control but too much will weigh it down.
What type of product you use and how much you should use depends on your hair texture, weight, style, etc.  This is also a topic you might want to discuss with your hair stylist.
If you are unsure how much to use start small!  You can always build but you don't want to start over by washing your hair.  For starters use a dime size amount of gel, a quarter size of mousse, and just a drop or two of shiners or pomades.
3. Don't forget your roots
When you're drying  your hair, lift sections of hair up and blow dry the root area first.  This is also where you will want to apply any volumizing product and brush just a small amount of it down through your hair to the ends.  Once you've dried in your roots continue to dry hair to the ends, drying a small section at a time.
4.  Buns are great
Bun updos aren't just for librarians anymore. A low, loose, casual updo is a quick way to get a pulled together. Simply finger-comb hair into a low, disheveled bun or knot and attach with a ponytail holder and bobby pins.  Leave the tight, ballerina bun alone and you'll look gorgeous.
5.  Color is your friend
I'm not advocating that every woman change the color of their hair but I think it's a nice option for some.  It is a nice, fuss-free way change from the way you normally look.  Never, ever, ever, ever color your hair at home!  Some may do it and it works but MOST of the time for MOST women, it does not.  I recommend asking a professional to help find the right color for your skin tone.  The hairdresser may even show you samples of different hair colors and hold them up to your face to help you get a better feel for what color is right for you.
6.  Frayed ends temporary fix
When your hair is suffering from those ugly split and frayed ends add a little Kerastase Serum Nutri-Sculpt to your dry hair, then dry your ends with a hair dryer. I love to keep this product (or a similar one) around just for those moments before my next hair cut when my ends are crying for help.
7.  When shiny hair isn't genetic
The big secret to beautiful sheen is a spritz or drop of shine serum.  I've used many different drops and serums for my hair through the years and I recommend trying out different brands to see what works for you.  Sally's Beauty Supply will allow you to return a product if it doesn't work for your hair.  (Return it right away though, don't use half the bottle!)  I did this everyday for about three weeks straight looking for the perfect hairspray and at last I found it!
8.  Not all hair dryers are created equal
I was introduced to the most amazing hair dryer through my parents.  They insisted that I try theirs and I thought they were crazy by the way they were raving over a hair dryer…a hair dryer?  The first time I tried it I LOVED it.  Without trying it for yourself I know you probably won't believe me but I must try.  The Jilbere Tourmaline Anti Static Ionic Dryer makes my hair softer, smoother, shinier, less frizzier and it dries my hair twice as fast as my old dryer.  It's not the most powerful dryer or even the hottest but it is far superior to any other dryer I've seen.
9. Learn the many uses of a styler
Ghd stylers are a tremendous asset to any woman.  If you want curly hair, flipped hair, wavy hair, an easy up do, added body, or the oh so popular straight hair, ghd au stylers http://www.ghdhair.com/au/ can help you achieve your goal.  They may be a bit pricey but they are worth their weight in gold.  The ghd website even has a hairstyling guide with pictures, videos, and a step by step printable guide to help you get the look you want.  I've owned several straighteners and ghd stylers are the only ones I recommend.
10.  Trim it up
The single best way to avoid the dreaded bad hair day is to get a great cut and keep it great.  Regular trims are essential even if you want to grow your hair out.  Once your hair has lost shape of it's original cut, that's when you find yourself resorting to ponytails, hats and maybe even brown paper bags.
Have fun with your hair, enjoy the different styles you create but you should always feel beautiful in your floppy bun, t-shirt, and sweatpants too!