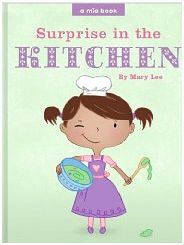 For a limited time you can enjoy this free eBook by Mary Lee (normally $2.99)!  Hurry, this free eBook is only available on January 10 & 11. You can read it from your phone, tablet or computer using free apps.
I haven't read it yet but it looks mighty adorable!
Surprise in the Kitchen $0.00 (normally $2.99)
by Mary Lee
"Mia is a sweet little girl with a big imagination. While she loves adventure, cooking is not her thing. To show her mom just how much she loves her, she'll try anything and the results are hilarious."
Subscribe to Embracing Beauty for more free eBooks!