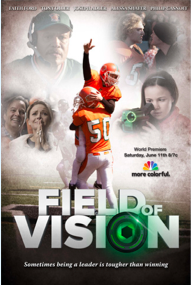 My thoughts:
I had the opportunity to get an early preview of the new family-friendly movie,  Field of Vision and I loved it!  I don't know about you but I think it's hard to find a movie that is suitable for the whole family and is actually enjoyable.  This movie is fun, has a great storyline and it carries an important message.  The movie focuses on bullying and standing up for people who are the victim of bullying.  Bullies will never disappear all together but I believe when kids and adults take a stand together against bullying it will be a less frequent occurrence.
Be sure to catch the newest P&G and Wal-Mart Family Movie Night collaboration Field of Vision premieres June 11th at 8/7c on NBC!
Check out the Family Movie Night Facebook page to stay on top of the new and upcoming movies.
Watch the Trailer:
Synopsis (from their website):
Through mysterious footage captured on an old malfunctioning video camera, Sinclair High School's star quarterback, Tyler McFarland, learns that some of his teammates have been bullying Cory Walker, a troubled new transfer student. Aware that sharing this information with the coach might get his friends kicked off the team and ultimately cost the school the state championship, Tyler must choose what's more important: winning or doing what's right.

As these events unfold, the camera also reveals more surprising footage to Tyler's kid sister Lucy. She learns that Cory has a secret past, unknown even to him. Now Lucy must convince her mom (Faith Ford, Murphy Brown) and family that the camera's revealing insight is not a product of her imagination as she enlists their help to find the answers Cory so desperately needs. It's a compelling and intriguing story that shows both the challenges and rewards of doing the right thing even when it's tough to do.
I wrote this review while participating in a campaign by Mom Central Consulting on behalf of P&G and received a promotional item to thank me for taking the time to participate.