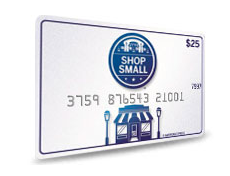 Mark your calendars because FedEx working with American Express to give the first 30,000 FedEx Facebook fans a $25 American Express Gift Card on November 1st!  Here's what FedEx has to say,
"FedEx and American Express are teaming up for a big idea to benefit America's small businesses. Together, we're sponsoring Small Business Saturday, Nov. 26, 2011, by giving shoppers a total of $1 million worth of Shop Small American Express gift cards to spend at local retailers across America."



Wouldn't this be a wonderful way to start your Christmas shopping!  To get your $25 gift card be one of the first 30,000 fans to claim your free card November 1st via FedEx Facebook page!  I'm not sure what time this offer will start but I'm confident it will end in a matter of minutes.  If they announce the time earlier I'll let you know!
If you win one, come back and let us know!
Thanks, The Krazy Coupon Lady!