A few days ago I was on a small conference Q and A call with Chelsea Eubank of Faithful Fish Clothing and I just want to share with you a little bit about her and her ministry.  This amazing woman of 23 years has been featured in Chicken Soup for the Extraordinary Teens, a guest on the Dave Ramsey show (my dream!), featured on Fox & Friends, and numerous other TV and radio spots.  I felt blessed to have the opportunity to talk with this passionate young woman!  She has been through so many hardships in her life yet she has trusted God and grew because of her experiences.  She is the CEO of her own Christian clothing line and recently she has started the Wear It Wednesday movement where more than 500,000 young people signed up!  This is an amazing little idea that has grown wildly.  I encourage you to check out Wear It Wednesday and her clothing line, Faithful Fish.
Here is a little interview I had with Chelsea after the conference call.
Where did you come up with the name faithful fish? Because Faithful Fish's trademarked logo is such an iconic Christian logo I guess the word fish just had to be in the name.  Then I was running and kept thinking of names that went with fish and  the bible verse about "Fishers of Men" popped into my head,  I could actually feel the light bulb go on.  Now I can't even imagine having another name.
What has been the hardest thing to overcome when starting your own business? The vision to provide a b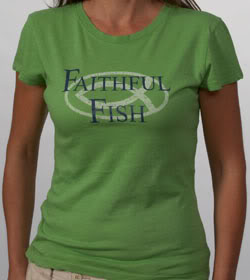 randed Christian logo'd clothing line that expresses the customers positive values and lifestyle doesn't resonate with everyone and trying to market a Christian clothing line has been a big disadvantage in the retail store space.  Stores are concerned that if they bring in a faithful line they will offend other customers.   But I have a vision a BIG vision, a HUGE vision and I truly believe that we are ready to have a Christian clothing line that can compete with secular clothing lines like Ralph Lauren or a company like American Eagle.  It just seems that we need a line that represents our positive values.  So to actually answer your question just to keep being positive even when things aren't going as quickly as you want them to.
What keeps you motivated to do what you do? It is so much fun and I also get to work with people who are just as jazzed as I am about being faithful.  Faithful Fish also gives a portion of all sales to charities so that is a true motivator.  I also believe that we are offering something that is not in the market place and Faithful Fish is meeting a need.
If you could tell my readers one thing what would that be? From my personal experience of losing my Dad on the phone with me when I was 17 and then losing 3 family members within 5 months of each other I know that God doesn't do these bad or tragic things to us but that he helps us through these hard times.  He held my heart when it was broken and didn't let the pieces fall to the ground.
What is your favorite Bible verse? Fruit of the Spirit.  I love that it talks about all of God's positive values.  So many people say that Christians don't want this or don't like that but The Fruit of The Spirit shows all of the positive values that God represents and wants for us.  (Gal. 5:22-23)
Okay, and a question for me…what was it like to meet Dave Ramsey? : ) He is so very nice and a believer like us.  After talking his "Financial Peace" course I also felt that he truly has a calling to help people in their lives in a very relevant way.    He helps people become good stewards. To then be able to be on his TV show and his radio show really was a miracle.
Thank you again Chelsea for your time!  God Bless!!