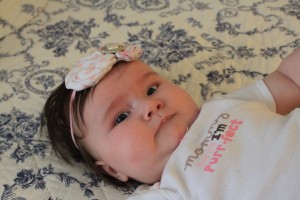 Ellarye Boutique is an extraordinary little  etsy shop that makes beautiful, one of a kind, hair accessories for little princesses.  They were nice enough to send me one to review and I just adore it.  You can see it pictured on my little lady above. : )
Ellarye Boutique is owned by Emma, a loving mom of two silly and energetic girls, Elleia Linden(5) and Rielynn Lucia (2).  She started her business last year while in school full time for her nursing degree.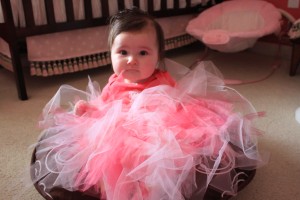 While Ellarye Boutique no longer sells these adorable tutus I had to share this picture of it with you!  I personally love it.  It's by far my favorite tutu because it was adjustable and made of a super soft tulle.  It came with this adorable matching hairband seen below.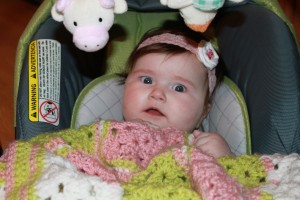 While Emma is no longer selling tutus she is still selling headbands for all ages and garters for soon-to-be brides.  Check out her Etsy site, Ellarye Boutique.  I'm sure you'll find something there that you adore!  If you make a purchase tell her that Ashley from Embracing Beauty referred you. : )