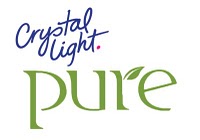 Since I've been pregnant I've been even more aware of the calories I'm consuming and the last thing I want to do is drink any of my allotted calories.  I've had to triple my normal consumption of water, so much that I get sick of it.  I've tried drinking more milk but I was still wanting something different.  When One2One Network contacted me about reviewing Crystal Light Pure Fitness for them I was all for it!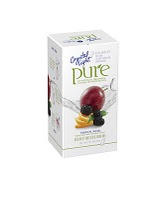 Crystal Light Pure Fitness contains no artificial flavors, sweeteners, or preservatives.  It's a fitness beverage so it contains electrolytes to aid with hydration.  Now I know what you're thinking, it must be loaded with calories, right?  It isn't! 🙂  It contains Truvia brand sweetener (oh how I hate how their commercials get stuck in my head!) so it only has 15 calories in each 16.9 fluid ounce.  15 calories, I can take that.
Crystal Light Pure Fitness is perfect for use at home or on the go.  When I worked out of the home Crystal Light was a must have for my office.  Each drink mix comes in it's own little packet.  You can pour it into a water bottle and shake or pour it in a glass and stir.  It's really pretty simple and perfect for the person on the go.
This drink mix comes in a variety of different flavors including grape, strawberry kiwi, mixed berry, lemonade, and tropical blend.  Grape and Strawberry Kiwi are the flavors that contain electrolytes to help aid hydration. I was able to try the grape flavor and I honestly enjoyed it.  It's light and yummy without being too overly sweet.
I want to thank Crystal Light and One2One Network for allowing me to review this product.
Disclosure: I received a product sample in order to facilitate my review and all opinions expressed are entirely my own.