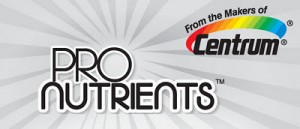 Congratulations to our winner Danielle F.!
When I was growing up I loved taking my Flintstones vitamins every morning but as I got older the habit slowly faded.  When I began wanting to have a baby I began taking prenatal vitamins but after the baby (and my prescription ran out) I've had to switch to a different type of vitamin, an over the counter prenatal vitamin.
I always associated Centrum with One-a-Day vitamins.  In fact, I can still hear the commercial voice in my head say "Centrum One-a-Day."  As it turns out, there are a lot more vitamins in the Centrum family than just One-a-Day!  They have a new line of dietary supplements called ProNutrients.  The line includes Omega-3, Probiotic, and a Fruit & Veggie one.
More info:
New ProNutrients Omega-3 provides two of the most scientifically studied Omega-3s (according to Eicosapentaenoic Acid/EPA and Docosahexaenoic Acid/DHA standards) in an ultra-concentrated MiniGel.  Since the MiniGels are smaller than the sizes of most brands' softgels, they are easy to swallow. They help support heart health, brain structure and eye structure.*  The retail value of the 50-unit package is $12.99, and the 100-unit package is $19.99.
ProNutrients Fruit & Veggie each MiniTab of new harnesses the power equal to a serving of a blend of fruits and vegetables. It is 100 percent naturally sourced from grapes, blueberries, raspberries, plums, carrots and tomatoes.  Each MiniTab helps support cell protection and general health.*  The retail value for the 50-unit package is $11.99, and the 100-unit package is $19.99.
New ProNutrients Probiotic is a unique blended powder containing two of the most scientifically studied probiotics.  The individually wrapped packets are designed to ensure the bacteria arrive active and ready to work in the digestive tract.  ProNutrients Probiotic helps support immune health and digestive balance.*  The retail value for the 14-unit package is $18.99, and the 28-unit package is $29.99.
They also have a "Specialist" line including prenatal, vision, energy, and heart. Centrum sent me a package of their newest supplements a month or so ago so I could give them a try myself.  I can't honestly say if my new energy came from the vitamins because it may be a result of my new exercise routine or a combination of the two.  Either way, I feel good taking vitamins that build up my immune system and help keep me as healthy as I can be!
Coupon: Centrum is offering a great $5 coupon for you to give Centrum ProNutrient vitamins a try yourself!
Giveaway: I also have a giveaway for one lucky Embracing Beauty reader!  One winner will be selected from the comments using random.org to win a Centrum ProNutrient product of their choice. This gveaway ends on Saturday,  January 21st at midnight EST. Click here to read the full giveaway rules.
To enter: Go and take a very quick Centrum survey.   It takes less than three minutes in total and there is no registration necessary.  After you enter your basic health info, it will give you simple ways to incorporate more of what you're missing in your diet and/or lifestyle.  After you take the test, come back and tell me what is one thing that you were missing.  Each comment counts as one entry in the giveaway and the winner gets a free Centrum product of their choice.  Good luck!
Disclosure: I am participating in a Centrum ProNutrients campaign hosted by One2One Network. I received nutritional product and compensation. While all opinions stated are my own, I make no claims about Centrum ProNutrients as a product or it's effectiveness.