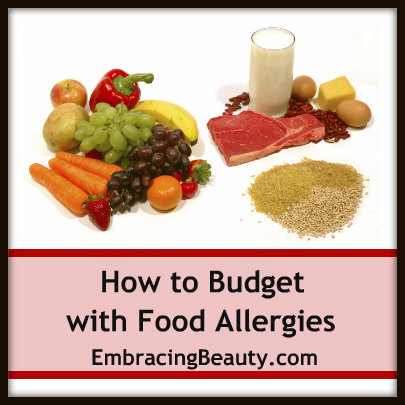 Hello! My name is Michelle, guest posting for Ashley while she's on maternity leave.  Congratulations, Ashley!  I blog about living with food allergies and how to do so on a budget at The Willing Cook.  I'm the mom of three children, one of whom has severe food allergies, as does my husband.  The Willing Cook is my story.
I have been doing a series called "Frugal Food Allergy Living" for the past few weeks and Ashley asked that I share my knowledge with you.  I want my food allergy readers to understand that you can still maintain a frugal lifestyle/strict budget when living with food allergies.  Thank you, Ashley, for allowing me to share my knowledge with your readers.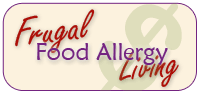 Is it possible to stick to a strict budget or be frugal and have food allergies?
The simple answer is "yes."
Do you or someone you love have food allergies and have a strict budget?  When faced with the reality of food allergies, it seems impossible to live on a budget.  Actually, budgeting for food allergies does not have to be much different from budgeting for normal groceries.  There are a few easy ways you can live without fear of mounting debt (or starvation) and produce good, healthy food.
Before employing any of these methods to lower your grocery budget, for food allergy families in particular, you cannot compare yourself to someone else's grocery budget who does not have food allergies.  There will be a discrepancy and that's just the way it is.  But you have to take every opportunity available to you as a food allergy shopper to save a buck.  You know the old saying, "a penny saved is a penny earned."
Now, for that list…
1.   Shop the Grocery Ads
As soon as the week's ads come out, take 15 minutes to find the best deals.  Circle each item or write it down and indicate if you have a coupon for it.  Try to minimize buying non-sale items.
2.   Use Coupons
Coupons for allergy-friendly foods are few, but they aren't completely non-existent.  When there is an allergy coupon, ask friends and family for their extra.  I do not purchase a Sunday paper because I don't like buying it when I may barely break even.  A neighbor gives me her coupons or I check the recycling center.  Another resource is the online coupon sites.  Also, coupons for toiletry and household products can help reduce the budget.  Every dollar saved helps and it adds up!
3.  Shop "Manager Specials"
Many grocery stores have set times for selling their marked down products that are nearing expiration, dented, or being discontinued.  Buy expiring meat and produce (like bell peppers or onions) and freeze or cook immediately .  Sometimes, you may find allergy-friendly products being cleared off the shelf (I scored Gluten-Free Bisquick for $1.99, regularly $5.39.  My husband was thrilled…for the whole 16 ounces!).   A coupon for a "Manager Special," may make it free!
4.  Make Homemade Gluten-Free Flour
Pre-packaged gluten-free flours are pricey.  A coffee bean grinder and whole grains/nuts can be a wonderful way to save money and enjoy various "flour" dishes.  I use a coffee bean grinder to make all my gluten-free flour because I already had it when I started this process.  You can also use a grain mill.
5.  Shop Around
Do not be product or store loyal, if possible.  Shop at many stores in order to get the best deals (Asian grocers, Aldi, Costco, etc).
6.  Avoid Restaurants
In our home, the possibility of cross-contamination carries too much of a risk just for the convenience.  Plus, I can fix dinner for my family of 5 for about the same price as 1 Happy Meal.
7.  Prepare Food from Scratch
Avoid pre-packaged or processed foods, even allergy-friendly foods.  They are pricey and generally not the healthiest for you, especially when avoiding multiple allergens.  Stick with fresh meat and produce, dry beans, bulk rice, and oats, for example.
One final note, don't be afraid to experiment in the kitchen, especially when you're getting used to cooking allergy-free on a budget.  Try to avoid getting into a dinner rut.  Look through cookbooks and online recipe sites for some ideas.  The recipe might not be allergy-specific, but don't be afraid to make substitutions.  Do your best, and take the good with the bad.
These are the methods that we use in our food allergy home, but we're not perfect.  You might just find a Happy Meal toy (or two) floating around our house.
What methods do you employ in your home to lower your grocery bill, allergy-family or not?
Next Friday, I will continue with this series and begin breaking down the bullet points into more detail.  First up is "Shopping the Grocery Ads."