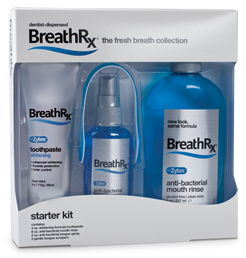 If your family eats as much healthy and yummy garlic as my family does you may want to check out this out!  Right now, BreathRx.com is offering an additional 50% off their BreathRx Starter Kit! It includes the following:
*BreathRx Purifying Toothpaste (4-oz tube)
*BreathRx Gentle Tongue Scraper (2 pack)
*BreathRx Anti-Bacterial Tongue Spray (2-oz bottle)
*BreathRx Anti-Bacterial Mouth Rinse (8-fl. Oz)
You can get this set for only $9.99 (regularly $29.99) + $4.99 shipping when you use the promo code WEB276 at checkout.  This seems like a HOT deal!
Your final cost will only be $14.98 (plus tax) to have it shipped to your door!  This same kit is currently selling on Amazon for $16.25 and has very positive reviews!  Here is the review that convinced me to buy the set:
"This product is flat out awesome. It starts working right away. I especially love the breath spray because it doesn't sting as much as you would think and you can actually feel it working. After two sprays you can check your breath by breathing into your cupped hand and it just smells minty freshy. Makes you smile and gives you the confidence to talk face to face with people or even go in for a kiss! lol


I also find that it reduces cravings as well and keeps your mouth moist instead of dry. A few sprays before bed time and you can kiss morning breath goodbye.
The toothpaste and mouthwash also have the same effect. The tongue scrapers are just as gentle as they claim it is and yet it gets the work done.
Basically, I would give this a 10 out of 10 because i've never been so satisfied with a product before. Listerine and regular mouth wash just can't stand up to this."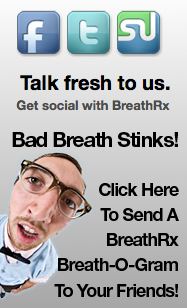 If you're brave enough to suggest this product to a friend you can send them a Breath-O-Gram.  Just visit BreathRx.com and click on the Facebook link in the bottom right hand corner to send your note.