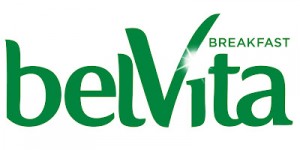 Breakfast is the most important meal of the day, right?  If that's true then why is it so hard to make it a priority?  It's hard for my family to make time for breakfast because we're night owls who like to savor each moment of sleep in the morning.  I'm pretty sure that we walk around like zombies for the first hour or more each day or at least it feels that way!
Even on the busiest morning I try to at least grab a banana or a piece of bread and spread Nutella on it.  Eating breakfast helps speed up my metabolism and eating a breakfast high in fiber helps sustain that energy.  I was pleased to have been invited to take part in a promotion from Mom Central and belVita called the Five Days of belVita Breakfast.  belVita Breakfast Biscuits are the hottest thing for today's busy moms.  If you haven't heard the buzz on Facebook about them yet let me give you the details!  They come in small individually wrapped packs with 4 biscuits in each package.  There are 5 packs in a box and each one regularly retail for $3.69.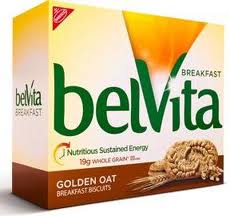 These biscuits are pretty much cookies, healthy cookies.  They are ridiculously yummy!  They are crunchy, slightly sweet and go wonderfully with your morning coffee.  Not only do they taste amazing but they are a good source of fiber and vitamins.  They have a sustained energy release which comes from a combination of ingredients and the baking process which helps preserve the grain's integrity.  These keep me fuller longer and gives my body continual energy instead of a giant spike that a sugary breakfast would.
My family absolutely loved these bars.  I wanted to take pictures of them for my review but all three boxes disappeared before I had the chance!  My husband eats them without me having to remind him and if you know how my husband hates breakfast you'll know that that is HUGE!  I love how belVita Breakfast Biscuits are so versatile.  You can eat them with yogurt and fruit, with peanut butter and Nutella spread on top, or you could spread yummy strawberry cream cheese on top.  Yum!  My favorite way to eat them is straight out of the package.
I can't help but think how great these must be for pregnant ladies.  I remember constantly snacking on crackers to avoid nausea and I hated they were so bland and boring.  These biscuits make great snacks for anyone.  They are the perfect size to toss in a purse or backpack for snacking on the go.
Check out belVita on Facebook.   Be sure and try all available flavors including: Blueberry, Golden Oat, and Apple Cinnamon.  I love them all but Blueberry is my favorite.  They are so sweet that you can find belVita Breakfast Biscuits in the cookie aisle.
I wrote this review while participating in a blog tour campaign by Mom Central Consulting on behalf of belVita Breakfast Biscuits and received belVita Breakfast product samples to facilitate my review, and a promotional item to thank me for participating.