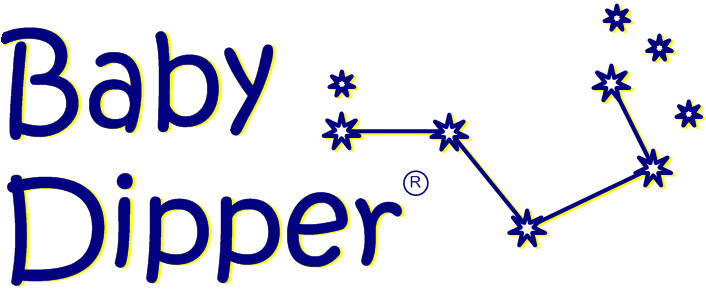 Barbara Schantz, the designer of Baby Dipper is an amazing woman.  She's the mother to twin girls born in 2004 and to twin boys born in 2008.  That's right, two sets of twins!  As you can imagine, she had her hands full.  She searched and searched for a bowl that wouldn't slide around the table and would make meal time easy.  After a lot of research and several purchases she decided to create what she had been hoping to find.  She created a bowl with a sloped center, a non-skid base, and a spoon shaped collection point to gather every last bite of food.
Pros: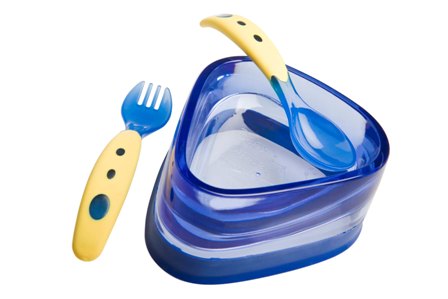 Angled shape makes it easy to scoop food out with one hand (my favorite!).
Non-skid bottom means it won't slide around your table.
Sloped bottom helps food slide to one corner.
Spoon is shaped to fit the corner of the bowl.
See through sides.
Dishwasher safe (a must for me!)
BPA-Free
Cons:
Not widely available (yet!)
My thoughts:
I love the non-skid base!  It stays put without a suction cup locking it on to the table.  This avoids having left over food being spilled all over the table when you go to remove the bowl.  The bowl is triangle shaped with a slanted interior so the food slides to the lower corner.  The lower corner fits the spoon and fork perfectly for easy scooping.  This is not only a great feature for a busy mom but also for a toddler feeding themselves.  I've heard that the Baby Dipper is usually demonstrated using marbles to show how easy it is to scoop food.  While I haven't tried it that does seem to be the ultimate test!  Anyone who has ever chased peas around a plate can appreciate this feature.
It's easy for parents to use the Baby Dipper with one hand, so they can keep the other hand free to care for their baby or whatever else needs doing at the moment.  Something I thought was incredibly cool was that you can see through the sides of the bowl.  I know what  you are saying, "See through plastic is nothing new, Ashley!  What's the big deal?"  With the see through sides you can easily tell how much food is left without having to tip or lean it over.  Cool, right?  You know only a mom thinks like that!
I love, love, love that it is dishwasher safe!  If it wasn't, I simply wouldn't use it.  Convenience is key with kids, right?  It's BPA-Free which we're all learning is very important.
Baby Dipper bowl, spoon, and fork set retails for $9.95 and is sold at Babydipper.com, Amazon.com, or click here to find a retailer near you.
Baby Dipper graciously gave me a set to review and wants to give one Embracing Beauty reader a set of their own.  Ready to enter to win your own Baby Dipper set (bowl, spoon, & fork)?
You can enter to win by doing one or more of the following; just be sure to leave a separate comment for each way that you enter.  I'll draw the winner, via random.org, on April 11th.  The winner willl have 48 hrs to respond before a new winner is chosen.  This giveaway is open to U.S. and Canada only. Also, people who have previously won a Baby Dipper on another blog are ineligible.  Good luck everyone!
Tweet about this giveaway including a link back; you can tweet daily to earn extra entries.
Like Beauty4Moms on Facebook.
Like Baby Dipper on Facebook.
Follow @Beauty4Moms on Twitter.
Follow @BabyDipper on Twitter.
Subscribe to Baby Dipper's newsletter.
Blog about this giveaway, being sure to link back to this post.
Submit this post to a current giveaway linky; you can do this unlimited times to earn extra entries.
Disclosure: I was given one Baby Dipper to facilitate my review but the opinions expressed are solely my own.