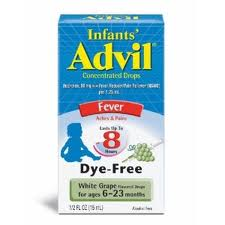 $1.10/1 – Advil Infants' & Childrens'  Product
My littlest one has a bit of a cold now so I'm thankful for this coupon!  We always use Advil's Infants' and Children's medicine for fevers and to help manage vaccine days.  Right now there is a new printable coupon for Advil Children's Liquid  & Infants' Drops.  Print your coupon out now and save it for an upcoming sale at Walgreens, starting 11/20.
Buy 2 Advil Infants' Drops, 0.5 oz – $4.99, On Sale Starting 11/20
Buy 2, Get $3 Register Rewards
Use 2 $1.10/1 – Advil Infants' & Children's Product
And Use $2/1 Advil Children's or Infants' Suspension,  0.5 oz or 4 oz from Walgreens Infant Care Booklet (will subtract $4)
Pay $3.78, Get $3 Register Rewards
$0.39 each when you buy 2
Thanks, Wild for Wags!
Please vote for Ashley in the Cheap Sally Bring Home the Bacon Contest.  Only takes a second and you can vote every day through Nov. 28th. Thank you!!! http://www.cheapsally.com/profile/ashley-walkup/