This conversation is brought to you on behalf of Victoria Jackson® and One2One Network. All opinions are my own.
Get a new fresh look for spring with the new Victoria Jackson Survival Kit.  It features soft pastel eye colors and peach tone blush which is perfect for spring!
The Survival Kit Includes:
– 10 Eye Shadows in Ice White, Rose Pink, Neutral Brown, Warm Dark Brown, Iridescent Olive, Gold Flecked Warm Brown, Silver Gray, Gray Blue, Gold Flecked Cool Brown and Steel Gray.
– 5 Lipsticks in Clear Gloss, Rose Pink, Berry Mauve, Fiery Red, and Deep Pink.
– 2 Blushes in Mauvey Pink and Copper Berry.
– 2 Liners: 1 lip liner in Dark Nude, 1 eye liner in Deep Black.
– Mascara in Midnight Black.
– 3 Applicators: a blush brush, a liner brush, and a shadow brush.
One of my favorite parts about this entire collection is that it all fits neatly in my hand! I love being able to touch up everything if need be while I'm out so that sold me on this collection.  Quick touch up of lipstick?  Done!  Forgot that I had eye makeup on and rubbed my eye endlessly?  No problem!  Sad movie left streaks down my cheeks?  It can be fixed!
The eye shadows in this set are gorgeous.  They are totally perfect for spring and they blend so well.  I'm picky when it comes to eye shadows and these have my approval.  The colors are lovely and have plenty of pigment.  Plus, I love how the included brushes were so soft.  I was really impressed by them!
In make up sets you don't usually find a lip liner, eye liner, or a mascara so I was pleasantly surprised to find all three neatly tucked away in this collection.
I love this quote from Victoria Jackson,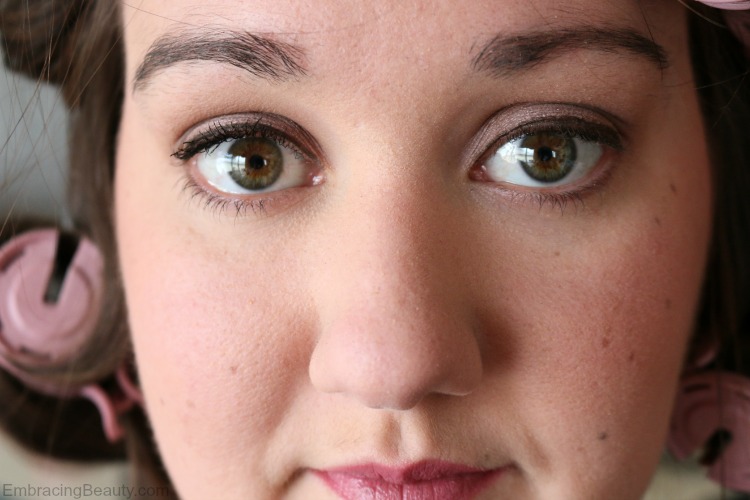 Here I am (unedited!) enjoying my new make up.  I hope you find makeup that makes you feel as beautiful on the outside as you are on the inside!
If you want to give Victoria Jackson's makeup a try, now is the time to do it.  I have an exclusive offer to share with you!  Save 25% discount off the entire Victoria Jackson site using promo code LOVEVJC. It's valid until 4/4/15.  Happy shopping!