Disclosure: I participated in this program on behalf of Jockey and The Motherhood. All opinions are my own.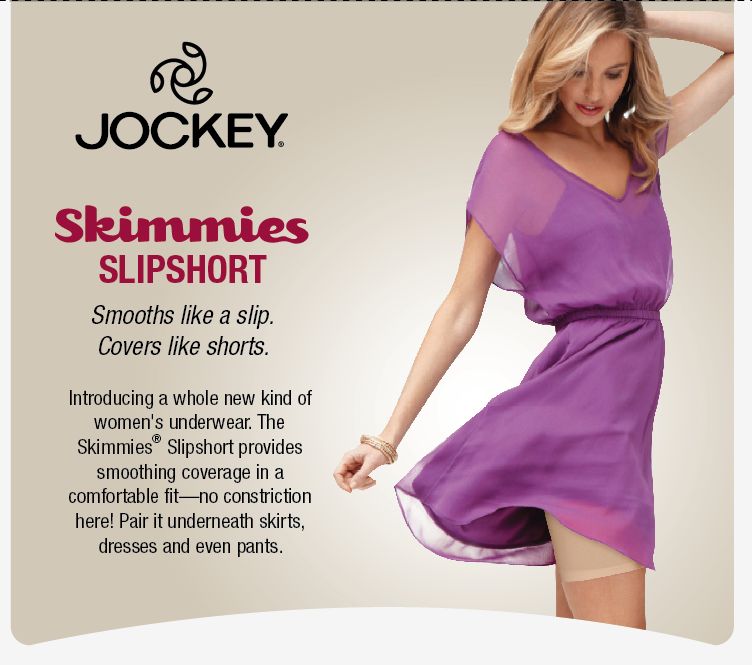 As a busy stay-at-home mom, I'm constantly trying to revamp my wardrobe into a fashionable and comfortable style.  Pajama pants are comfy around the house but I want to wear something all day that would be acceptable running errands in.  My dressier shirts and capris are more appropriate for wearing in public but they aren't near as comfortable.  Lately I've found a good alternative in maxi skirts and dresses.  They're crazy comfortable, cool, and they give me a "put together" look without much effort.
The downside to wearing these lovely skirts is that my legs tend to rub together a bit and that gets uncomfortable real quick.  I have the perfect solution!!  Jockey Skimmies® slipshorts, are the new "must-have" fashion secret for women. Slipshorts are a fabulous combination of a soft and stretchy slip in the shape of shorts.  It's very comfortable, yoga-pants comfortable.  Not only do they make skirts comfortable to wear in summer but they also help smooth down unwanted bumps and bulges.
Skimmies® are NOT shapewear but they are something that is much better!  They're not constricting, bulky, or hard to put on/take off.  They're lightweight, breathable, come in a variety of fun colors, they smooth your shape, and you can even wear them in place of panties if you'd like.  Rachel Zoe, celebrity stylist, is the spokesperson for Jockey Skimmies® slipshorts and was quoted as saying, "Comfort should always be glamorous, and glamour should always be comfortable."  I agree with her!
Jockey Skimmies® come in three great styles:
– Regular length
– Short length for shorter dresses
– Moisture-wicking for more active days
Just a few other great things about Jockey Skimmies
– They make sliding out of a restaurant's booth a breeze.  Your legs won't stick this summer!
– Immodesty woes are gone!  You can wear a shorter dress without fear of the wind and no matter the length you chose you won't have to worry about irritating panty lines.
– Eliminates irritation from thighs rubbing together.   Women of all shapes and sizes get this and it can be down right bothersome.  Now you can wear your summer dresses all day with confidence and comfort!
– Perfect for wearing (in the color nude) under white shorts, capris, or shirts!  I love white shorts in the summer but it's difficult to find a pair that are thick enough to not reveal every detail of what's underneath them.  Skimmies® provide an extra barrier of protection!
– A smoother silhouette!
– They stay put all day without rolling down or up.  You won't even remember you're wearing them!
My Jockey Skimmies® slipshorts are my new wardrobe secret.  Well, they're not a secret to many because I've told just about every woman I know about them.  I truly love them and think that every woman should own a pair, or two, or ten!
Would you like to win a pair of Skimmies®?  How about $5,000?  I thought so.  Here's how:
Jockey and Rachel Zoe want you to Seize the Day in Skimmies® with 25 fun and glamorous daily challenges, May 27-June 20. Expand your comfort zone: Enter Here.  Good luck!
This contest ends 6/20/14 at 11:59 PM EST.
Today's challenge is to complete this phrase and write it in a piece of paper – "With Skimmies® I'm free to…"  Here's my entry: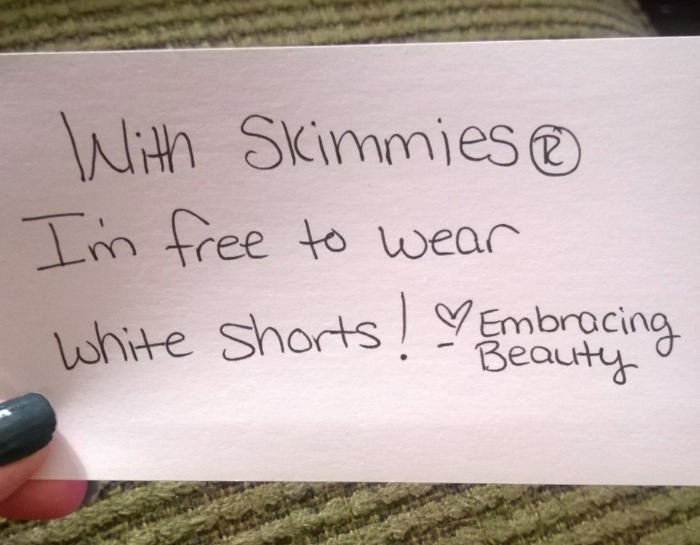 You can also check out Skimmies® in the "Workflow" section of the upcoming August/September issue of Working Mother Magazine.
Here's another chance for one Embracing Beauty reader to win an assortment pack of Skimmies® ($50 value):
This giveaway ends 6/17/14 at 1pm EST.  If you have any questions about it please feel free to contact me.  Good luck!
a Rafflecopter giveaway