A girl can have all sorts of reasons to get excited about spring. It means more fun, more time spent outdoors, and more reasons to dress up especially when the weather becomes a little warmer. At MakeMeChic.com, you'll find the latest trendy fashion picks like gladiator shoes, bright and stylish bags, and a variety of statement jewelry.  If you're looking for a few new items to add in your wardrobe, here are 5 things you'll love for spring.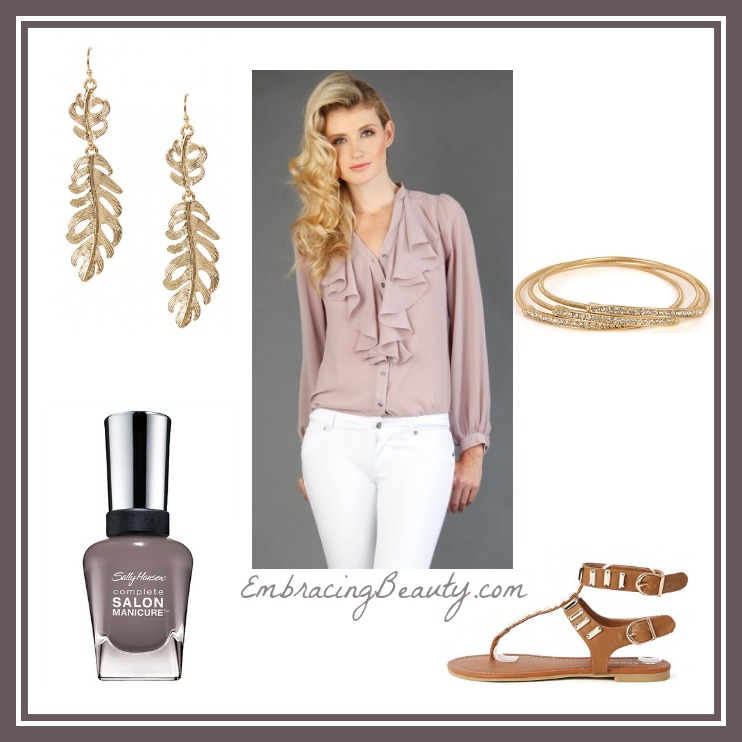 1. Ruffle Down Long Sleeve Top. This flirty and feminine violet top is perfect for business or leisure.  As the description on the website says, "Every girl needs a ruffled long sleeve in her closet" and I agree. ($19.70 was $24.60).
2. Bamboo Krea-23 Buckle T Strap Sandals.  If you like a neutral sandal that will fit your go-with-the-flow sense of style this buckle gladiator shoe is for you.  The soft leatherette T strap is decorated with jewels to brighten your day.  ($21.80).
3. Rhinestone Bangle Set. Want simple elegance without the cost? Wear this rhinestone bangle set and see how it transform your look into a glamorous, show-stopping fashion statement…or at the very least adds a little bling to your outfit.  ($15.30).
4. Metallic Leaf Earrings.  I firmly believe that every good outfit needs an equally stunning pair of earrings.  Take a look at these gorgeous gold earrings.  These metallic leaf earrings are light weight, measure approximately 2.25", and will add volumes of style to your look ($6.60).
5. Sally Hansen Complete Salon Manicure.  Every girl needs a go-to nail polish color and this is mine.  Commander in Chic is the perfect combination between neutral and bold ($3.00 plus free shipping on Amazon).
6. White Jean Shorts. Something to wear on a warm day while enjoying a great time outdoors? These white shorts are perfect to wear with your relaxed loose tee or matched up with a classy blouse ($29.80).
Isn't it fun to be a girl?!
If you like this outfit inspiration board Pin it on Pinterest so you'll always have it.  Plus, follow me on Pinterest and stop back again soon for more stylish and affordable ways to update your wardrobe!