It's time for the Photo a Day Challenge!  Each of our Photo a Day Challenges keep getting bigger and better. Welcome to our July Photo a Day Challenge!
Did you play along with us last month or are you a newbie?  If you're a regular photo-a-day'er or if this is your first challenge we welcome you to come and join us!  This is all for fun so if you skip a day or two you can make them up later or just forget about them.  No pressure!  Really.  Recently, I was feeling a bit under the weather a lot under the weather so I just skipped the end of the challenge….and that's okay.  This is just a fun way to slow down and focus on the beauty in life.  Every day moments in life are beautiful!
Each month I love looking at all of your fun pictures and get to know some of you better.  I try and make my way around and comment or like everyone's pictures every day but this group is getting too big.  I'll still try to get most of you but if I miss you, please don't be offended.  Also, if you participate, take just a moment and try to encourage another fellow photo-a-day'er by commenting or liking their photo.  I'm sure they would appreciate a follow too!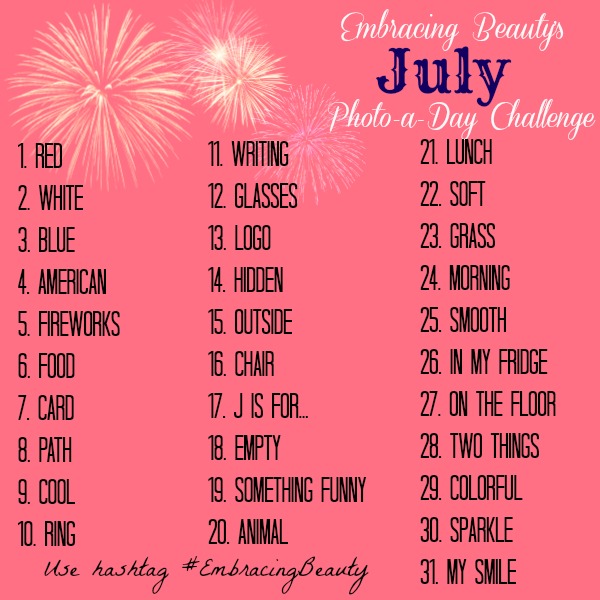 How to participate:
All it takes to join in is to simply take a photo and post it on a social media site with the hashtag #EmbracingBeauty.  I'm using Instagram and sometimes I'll post them on Twitter and Facebook too.  When you tag your photos with the #EmbracingBeauty hashtag they'll join the list of photos under the #EmbracingBeauty hashtag (Facebook now allows hashtags so don't forget to tag your photos you post on there too!  How exciting!).  To see everyone else's photos who are playing along simply click on the "#EmbracingBeauty".  You can see all the fun photo ideas other Embracing Beauty readers (and myself) are sharing.  This is so much fun!!
Who's ready to join me?