This is a sponsored post written by me on behalf of NETFLIX.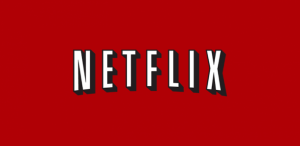 I don't really like for my daughter to be in front of the TV too much.  We didn't allow her to watch TV at all until she was 18 months old.  Since then she's watched it on a limited basis but she does have favorite TV shows.  Because her favorite shows aren't on constantly we looked to Netflix.  Netflix streams kids videos and TV shows 24/7.  It's such a life saver!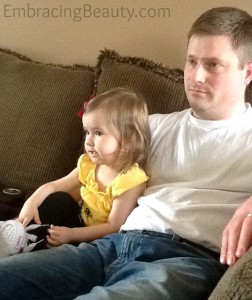 Netflix is great for cuddle time!
I usually watch a 30 minute show with my little one in the morning while I wait for my meds and coffee to kick in.  After that we play and don't go back to the TV until the next morning.  Occasionally, I'll use it as a babysitter but only briefly!  For instance, today I had to work in the kitchen, running back and forth, with the oven door open and I didn't want to chance her coming in.  It worked wonders and as soon as I was finished we turned it off and went to playing with her kitchen.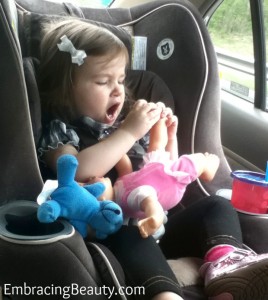 The Netflix app would be great to rescue kids from the boredom of long road trips!
We've had a Netflix subscription since a few months after we were married.  We love it and use it daily!  We have our favorite TV show reruns we'll watch like Psych, whole series' like 24, old Jimmy Stewart movies, new action flicks, and, of course, now that we have a little one in the house we're partial to the cartoons on demand and the Disney movies!
Netflix has recently added new content from Hasbro, Disney Jr. and Cartoon Network. Explore the TV shows and movies available from these networks and find your family favorite from the list below:
My Little Pony
Dr. Seuss' The Lorax
Mickey Mouse Clubhouse: Road Rally
Cars Toons: Mater's Tall Takes
101 Dalmatians
Batman and Beyond
Transformers Prime
Tinker Bell and the Great Fairy Rescue
The Aristocats
Pocahontas
Angelina Ballerina
Tron: Uprising
Powerpuff Girls
Thomas & Friends: Go Go Thomas
Pingu
Justin Time
Jake and the Never Land Pirates
The Adventures of Tintin
Curious George
H2O: Just Add Water
Caillou
Sesame Street
Johnny Test
Suite Life of Zack & Cody
Curious George
ParaNorman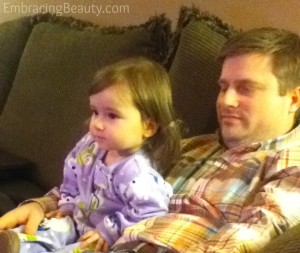 A little evening cuddle with Netflix and Daddy!  What could be better?
What are you watching on TV with your family? Netflix has family favorites from Disney, Disney Jr., Hasbro, Cartoon Network and Dreamworks that are available to stream anytime, anywhere.
And streaming is easier than you think! Download the free app on your iPad, click on the Netflix app on any gaming device, go to the website on your computer – and you're in business. Check it out here!
This is a sponsored post written by me on behalf of NETFLIX.