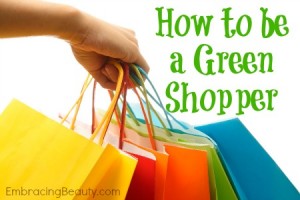 In a time where being fashion and environmentally conscious can work hand in hand, there's no better time to consider your shopping habits and how you can make your weekend of retail therapy that bit more green! Read on for our top tips on how to be a green shopper:
Recycle your shopping bags
The first step to a greener shopping trip is to start reusing the hundreds of polythene bags that get stuffed in your kitchen drawers. Stock piling plastic shopping bags is a common household habit, we feel too guilty to pop them in the bin and send them off to landfill, yet it takes a concerted effort to actually re-use! The best thing to do is to knot them up tightly and keep them zipped in a handbag pocket for when you need a quick carrier out and about, however if you know you're unlikely to re-use make regular trips to your supermarket to return old shopping bags and they can do the hard work for you.
Use a fabric shopper
Crumpled plastic carriers aren't the most stylish of shopping accessories, so if you're looking for an eco-friendly shopping bag that's lightweight and fashionable opt for a fabric tote bag. Tote bags have become an affordable high-street staple and come in prints and patterns to suit every wardrobe, and budget. Whether you invest in designer slogan print or an Aztec patterned number, tote bags are comfortable shoulder bags that can be rolled up and kept in your handbag until needed.  New Look is a retailer of value fashion apparel, the second largest women's wear retailer in the UK, with over 1,000 stores worldwide. New Look's designs range from dresses and jackets, to tote bag and shoe collections.  They have adorable and affordable eco-friendly shopping bag options.
Book your groceries carefully
If you do your grocery shopping online, there's a very simple way to make your weekly shop a greener. Check with your supermarket and find out when a van will be in your area, this way deliveries can be made covering a smaller locality and save on fuel. Most supermarkets provide symbols to indicate when a van will be nearby, so do your bit and choose to have your products delivered then too.
Buy eco-friendly
When you want to know that each and every item you buy has been made in an environmentally considerate manner, buying eco-friendly fashion is the ideal solution. You will find numerous dedicated retailers online, but many high-street brands now stock their own 'green' collections.
Explore charity shops
Forget charity shops filled with unattractive knitwear and a lingering smell of must, the economic downturn has meant second-hand shops have become a viable place to pick up incredible fashion bargains. Each time you make a purchase at a charity shop, not only are you doing providing finance for a good cause, you'll be doing your bit for the environment as you recycle a garment and keep it from landfill. Charity shops are another great place to find eco-friendly new items too, with many producing their own green tote bag shoppers too!