I love jewelry and it's probably safe to say that a lot of women do as well.  While I may not have a huge collection of nice jewelry (yet!), the pieces I do own are unique and each tell a story.  Some I bought myself, some my parents bought me when I was in high school, but most of them were bought by my husband.  I much prefer unique pieces of jewelry found at smaller, independent stores (in person or online) over the ones you'll find at the big jewelry chains.  You know the ones!  It's not that they don't have lovely pieces.  Obviously they are very pretty but the thing is, everyone has them.
Recently a company called Super Jeweler contacted me to review a piece of their jewelry.  I was overwhelmed by the beautiful jewelry, unique jewelry that they had on their website.  It took me a while to decide on a piece but once I saw this sapphire ring I was in love.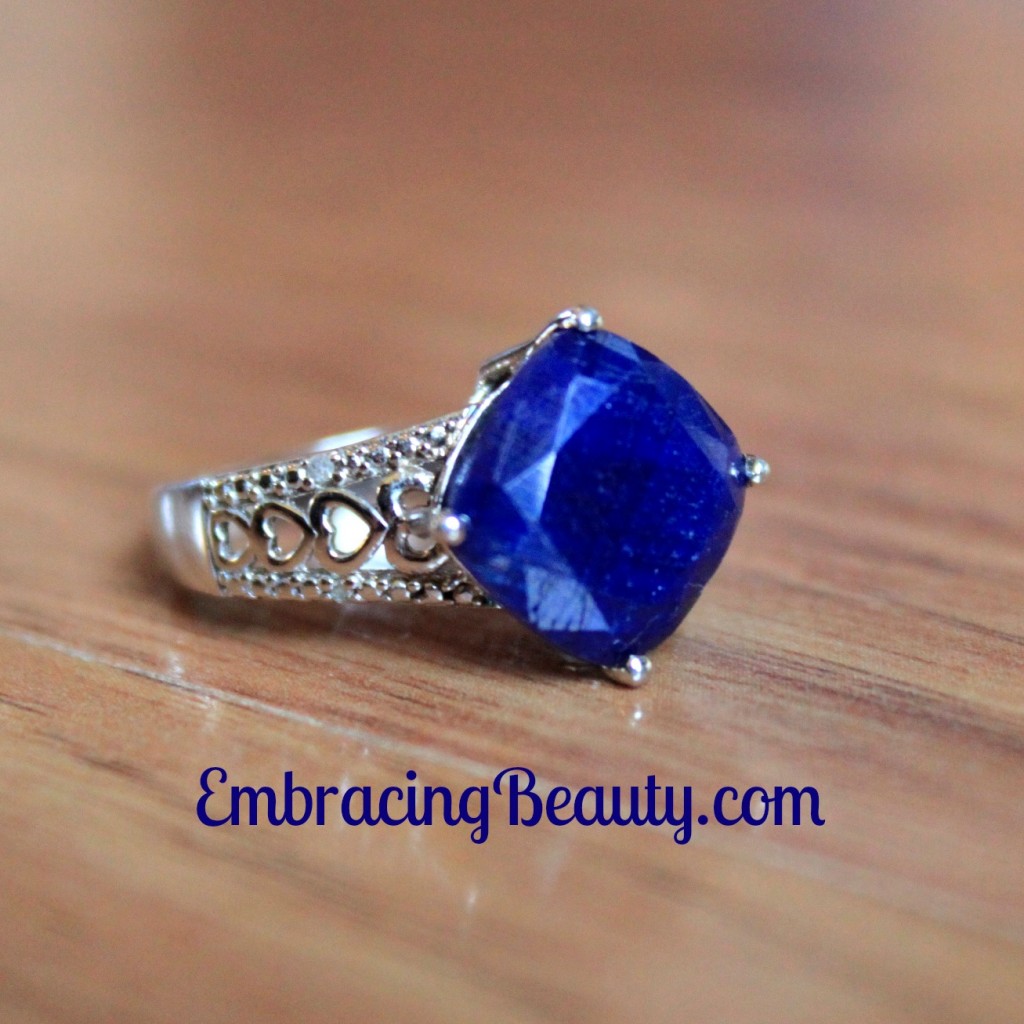 Isn't it lovely?  It's unique because it's a rough cut sapphire.  That means that it isn't a clear gem but it has a variation of color and cut marks on the surface (I don't know the official name but I'm sure it's not "cut marks."). I've never owned a rough cut stone before so I was eager to receive it and when it arrived, it exceeded my expectations.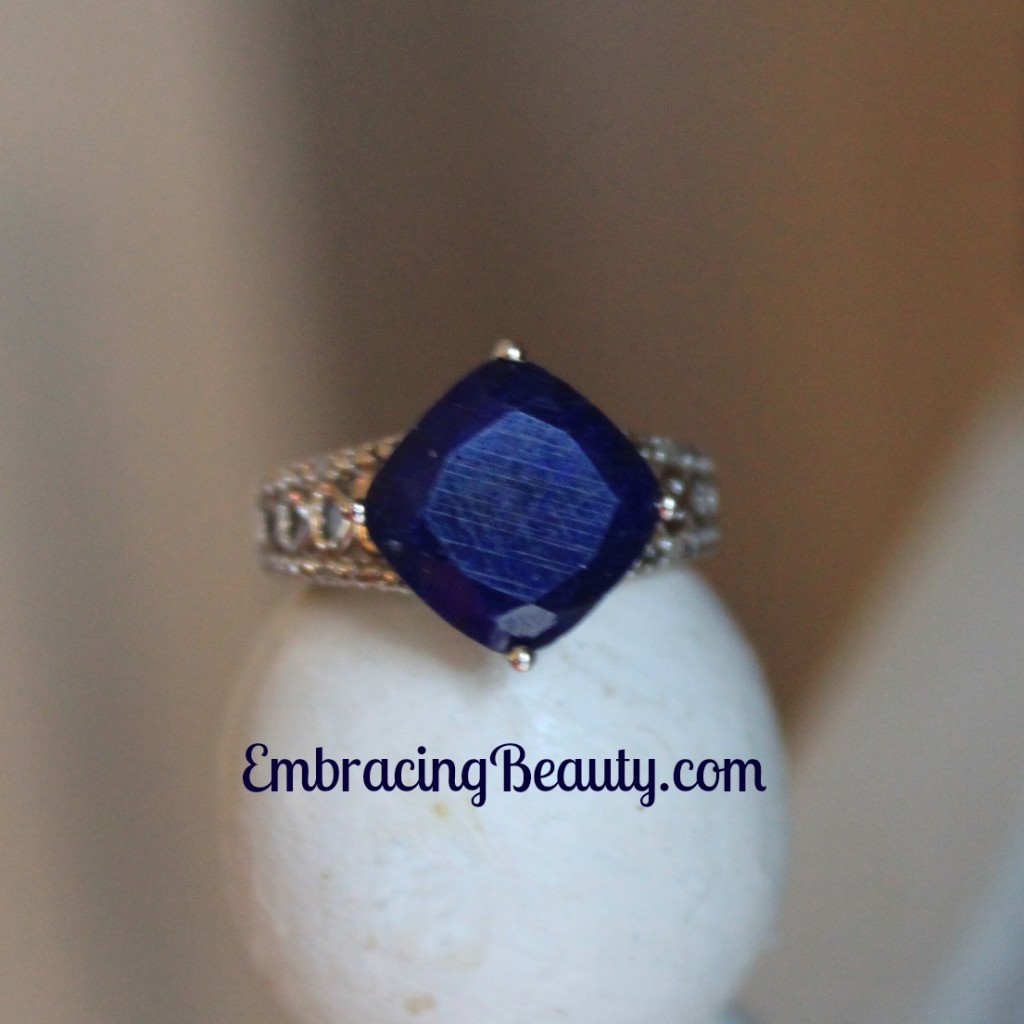 Do you see the detailed texture on the top of the stone?  I think it gives it character.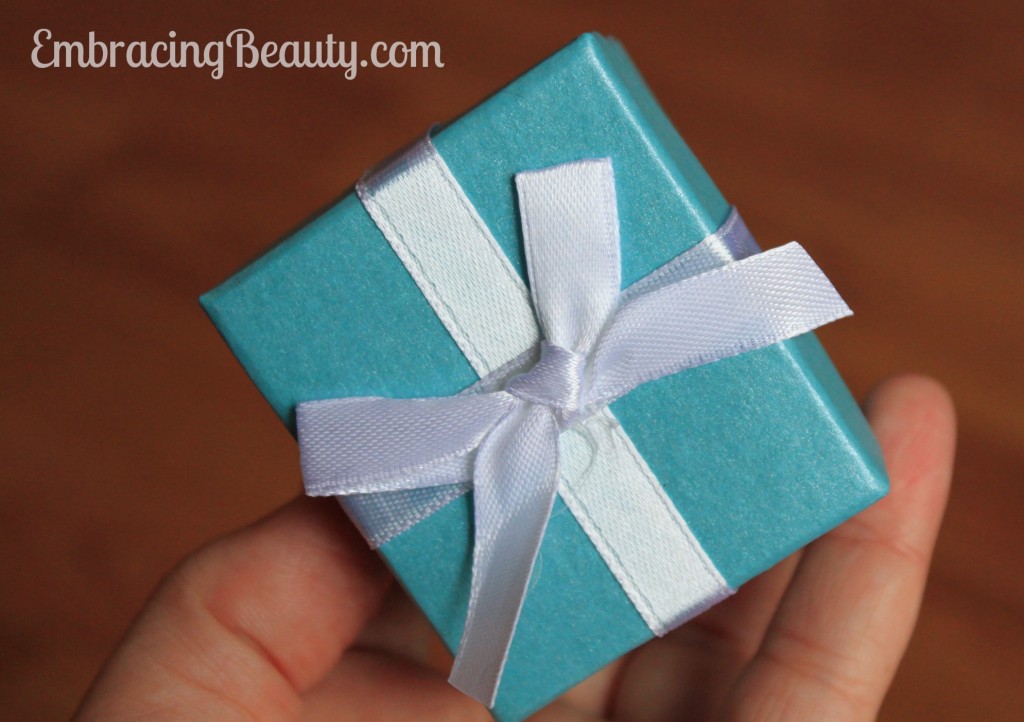 The ring came packaged in this very cute Tiffany-blue colored box.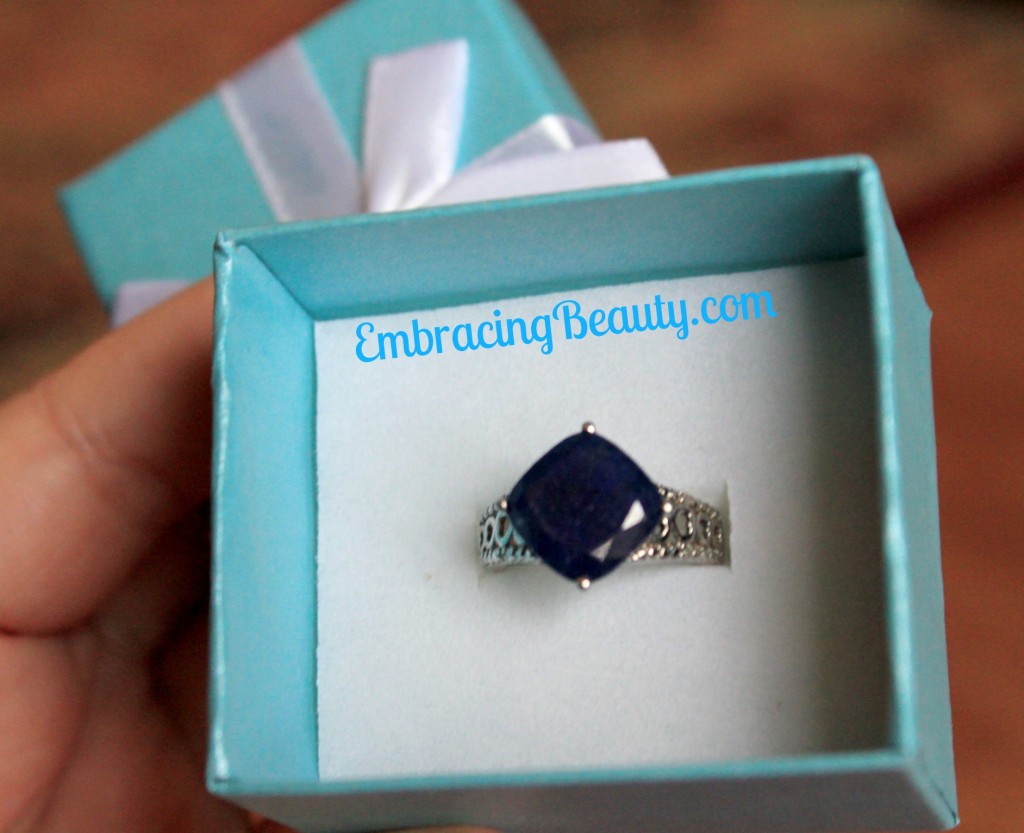 I just adore it!  Here are the specifics that the website gives, "HUGE sterling silver diamond and sapphire ring. Sterling silver diamond and sapphire ring contains one rough cut sapphire and four sparkly diamonds for a total gem weight of 7 carats. Diamond content is .02 carat in J/K color, I2 clarity. One star diamond."  The diamonds are barely noticeable but I didn't choose it for the diamonds anyway.  I bought it for the main stone and the sweet hearts on the side of the ring.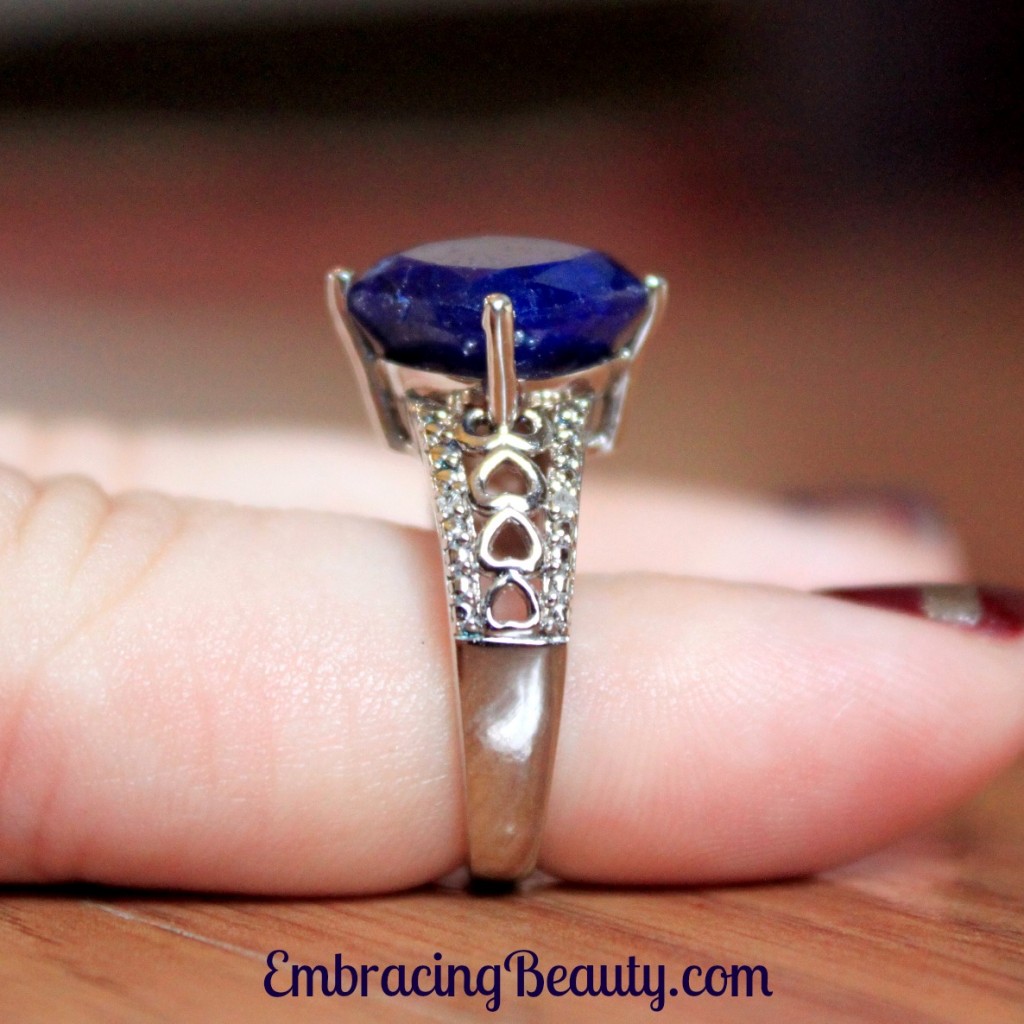 Beautiful, right?  It's not too big and not too small.  Just elegant.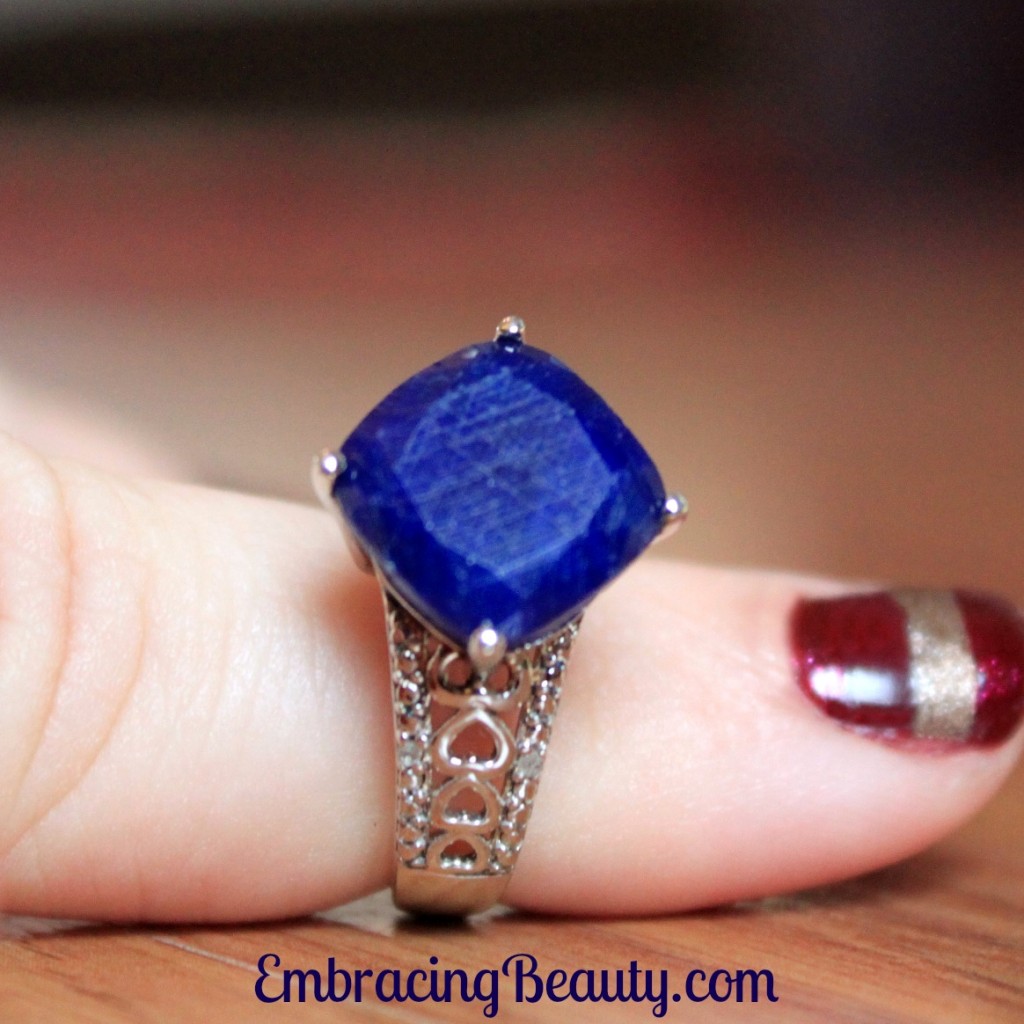 From this angle you can see two of the four diamonds.  The two diamonds are beside the second heart down from the top.  As you would assume, the other two diamonds are in the same place on the opposite side of the ring.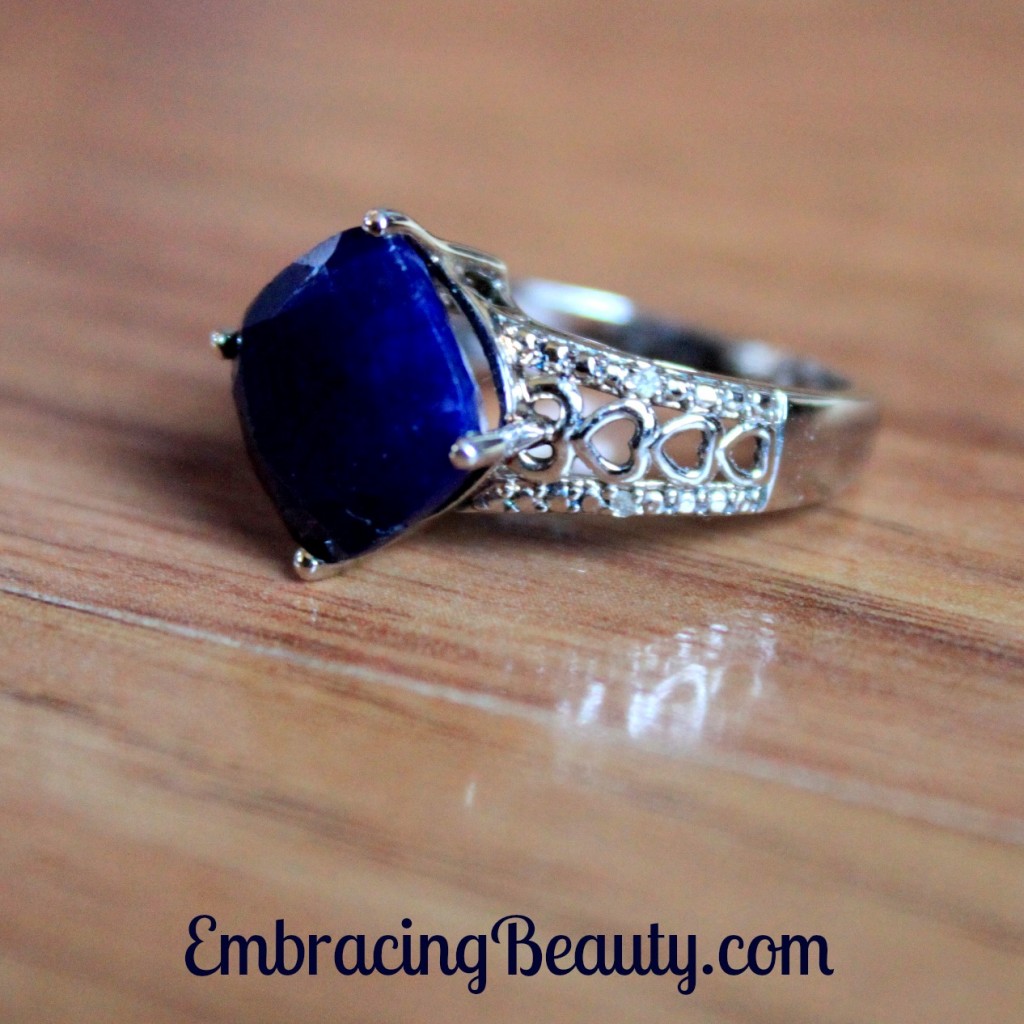 I have been enjoying wearing my new ring out and about. I even had a few friends and family members ask me about it and compliment me on it.  It's an eye-catcher for sure!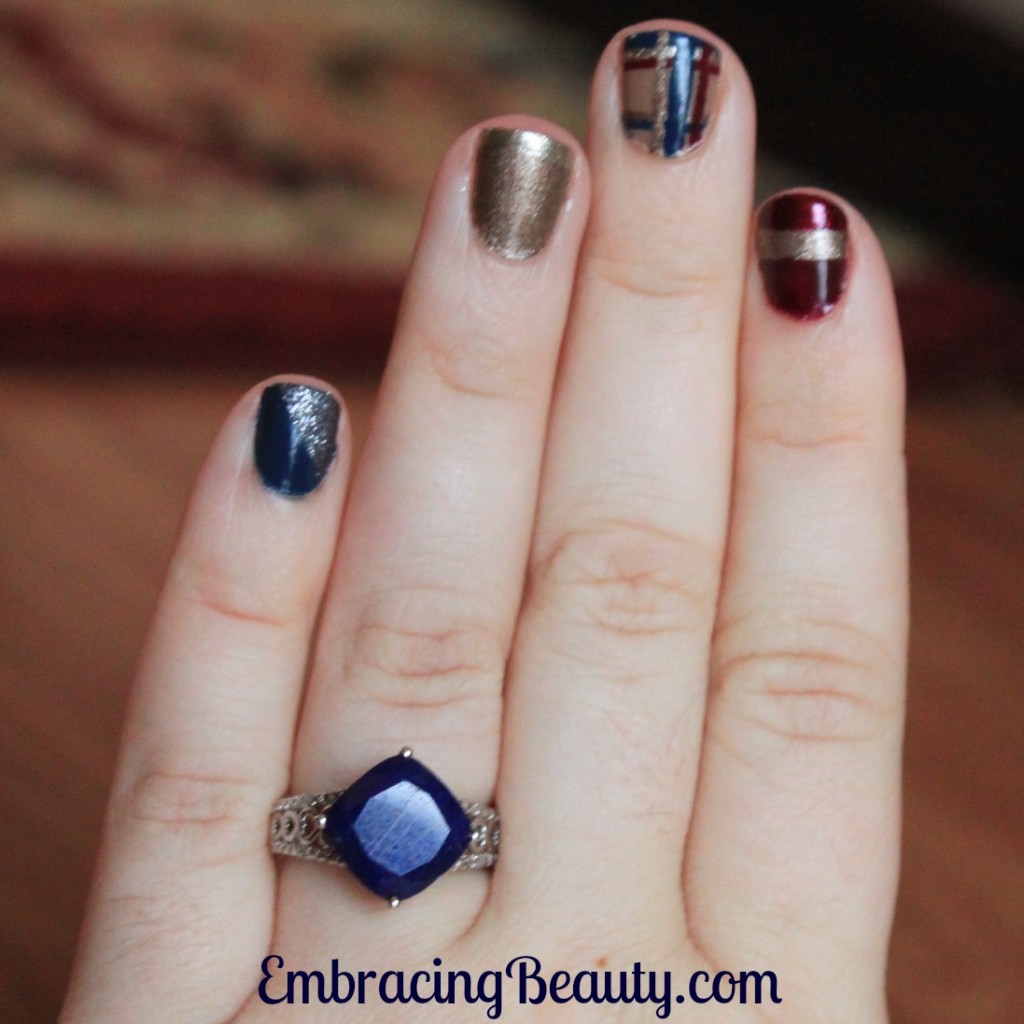 All in all, I'm very pleased with my experience.  Super Jeweler has been great to work with and order from.  The ring I've got is amazing and I've made sure I let my husband know how pleased I am with their products. *wink wink*  The next time you're looking to buy a piece of jewelry for yourself or a loved one be sure and check out Super Jeweler.  They have unique, high quality jewelry at reasonable prices.
*Here is your exclusive coupon code to save 15% off just about anything at SuperJeweler.com! Just enter embracingb1 at checkout to save 15%!*
Connect with Super Jeweler:
Facebook: https://www.facebook.com/SuperJeweler
Twitter: https://twitter.com/superjeweler

Disclosure: Please note that the opinions and views expressed in this review are my own and based on my personal experience with the product and company. You may encounter a different experience with this than I did. SuperJeweler.com provided me with free products to review and did not see my review before it was published here.