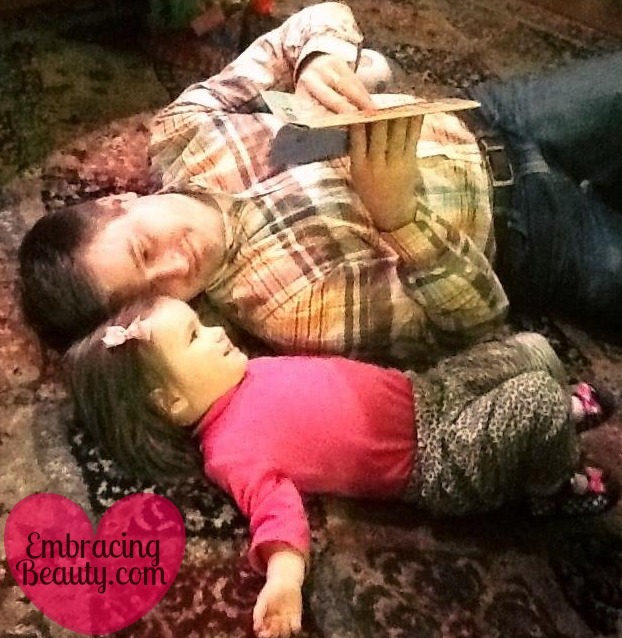 My Dearest Daughter,
It's true that Valentine's Day might be a big over-commercialized holiday where companies everywhere are shoving their cards, candy, flowers, stuffed gorillas holding hearts that says, "I'm ape over you," BOGO dinners, and everything pink and red imaginable at us.  I love love and I enjoy celebrating it.  The love between a husband and wife is special, the bond between grandparents and grandkids is sweet, and of course, as you know, the Daddy & daughter relationship is one of a kind.  However, the marketing of Valentine's Day can sometimes leave me feeling a bit jaded about the holiday itself.
I am so ridiculously in love with your father, and he's in love with me.  I desire that for you.  When you are much older and the time is right, I want you to feel this degree of mutual love.  Self-sacrificing, want-what's-best-for-the-other-person, long suffering kind of love.
 

"Greater love hath no man than this, that a man lay down his life for his friends." – John 15:13
As you grow up and you start feeling your heart thump in side your chest when you see a certain boy remember to slow down and just be friends for as long as you can.  You'll want to marry someone who is your best friend.  Try and wait for someone who knows what you're like on a bad day and wants to be around you anyway.  Someone who can make you laugh when you're feeling blue.  Someone who can admit when they're wrong and apologize for it.  Someone who accepts you as you are but being around them makes you want to be a better person.  Wait for someone like that.  A box of chocolate hearts is nice but it won't mean much if the person who gave it to you doesn't cherish your heart.
Though I think the commercialization of Valentine's Day is a bit over the top, I'll never tire of your Daddy showing his love for me – even when he brings a heart shaped box of candy or musical candles that play, "You light up my life."
All my love,
Mom
A few bloggers and I decided to put together a Letters to our Children blog hop and we hope you'll enjoy reading these heartfelt letters to our children.  There are 13 blogs in total and to hop over to the next blog please visit, Penelope's Oasis.  She's fabulous, I know you'll enjoy her!