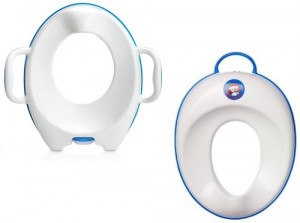 As I've announced before, I'm in the early stages of potty training my daughter and today I'm ready to buy a potty seat.  One of my friend's daughter is 18 months and she pottied in the toilet for the first time today and that has me motivated.
When looking for a potty seat I first found the ever popular Baby Bjorn toilet trainer.  This has great reviews and has been around for a while so it should be the obvious choice, right?  I thought so too until I saw the new Arm & Hammer Secure Comfort Potty Seat.  It also has great reviews but it's about $20 cheaper and comes with an air freshener and handles.  I'm excited about the handles. Isn't that a great idea?!
The Baby Bjorn toilet trainer is $33 on Amazon and the Arm & Hammer Secure Comfort Potty seat is only $11 + Free Prime Shipping with $25 total purchase.  I'm strongly leaning toward the Arm & Hammer Potty Seat but before I make my purchase I wanted to run this by ya'll and see which one ya'll preferred and any pros and cons you have.
Oh, and I also found this awesome little step stool for kiddos.  It's called the Little Looster's Looster Booster and is on sale now at Amazon for $34.50 + free prime shipping.  That means if I buy this and either one of the potty seats they'll both ship for free.  This looks pretty incredible but I'm open to any potty step stool advice you may have too.  Thanks in advance for any advice you share!!