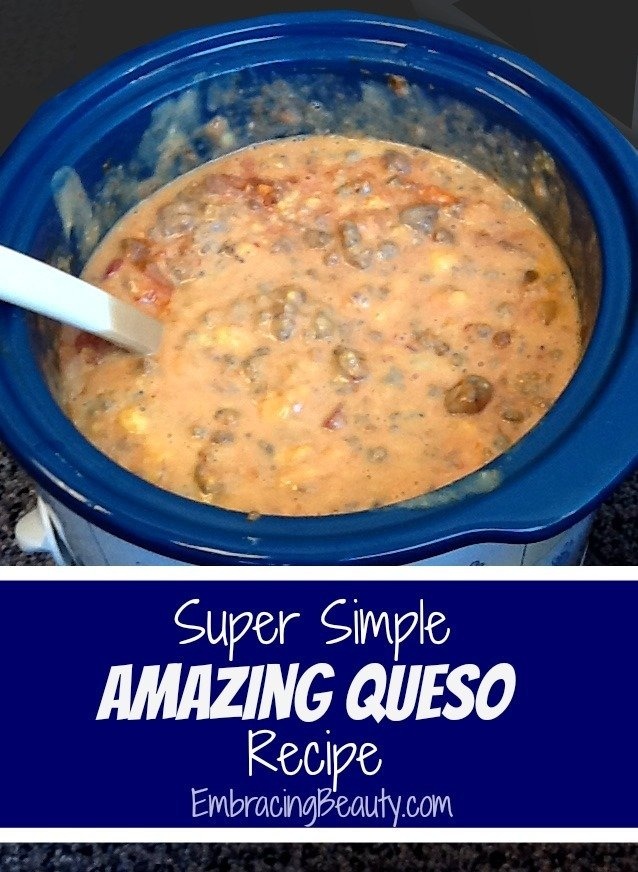 This queso recipe is, as the title says, amazing!  It's cheesy, just a little spicy, and oh so addicting.  It's perfect for super bowl parties, movie nights if you have a big family, a Christmas gift exchange, or just about any get-together really.  This recipe was my husband's before we were married and we're not sure where it originated from.  If this is recipe is from your cookbook or company's cook book please let me know and I'll give you the credit you're due.
Serves: 10-15+   Ingredients:
– One 2 pound block of Velveeta cheese
– 1 pound Jimmy Dean Sage sausage
– Cumin to taste (we just shake a little in)
– Garlic to taste (we do two cloves)
– 1 jar of medium salsa – around 15 oz. (or hot salsa if you prefer)
– Cayenne pepper to taste (a little goes a long way so be careful!)
Directions:
– Brown sausage and drain grease
– Cut cheese into blocks (to melt faster)
– Combine all ingredients in crock pot and cook till it melts, stirring occasionally
I hope you'll enjoy this amazing queso recipe as much as my family does!  As with all of my recipes, I hope you'll try it and come back and let me know how it was.  Don't forget that you can print this recipe via the green "print friendly" button below.  Enjoy!
This recipe is featured in the new Circle of Mom's Cookbook.  They have a lot of fabulous tried and true recipes submitted by "real" moms.