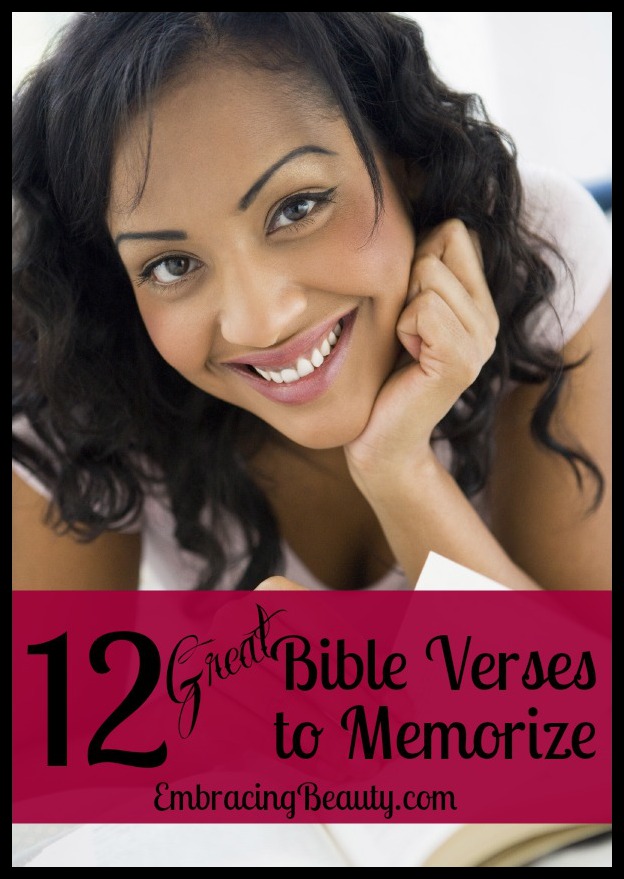 Knowing God, so we can exalt Him, is the ultimate purpose of life. Memorizing the Bible is a great way to get to know Him and what He has planned for our life. These are 12 of my favorite Bible verses and I think they're 12 Great Bible Verses to Memorize. These verses are from the King James Version, which is my favorite one to memorize from, but feel free to use your version of choice.
Romans 6:23 "For the wages of sin is death; but the gift of God is eternal life through Jesus Christ our Lord."
Romans 10:9 "That if thou shalt confess with thy mouth the Lord Jesus, and shalt believe in thine heart that God hath raised him from the dead, thou shalt be saved."
Philippians 3:7-8 "But what things were gain to me, those I counted loss for Christ. Yea doubtless, and I count all things but loss for the excellency of the knowledge of Christ Jesus my Lord: for whom I have suffered the loss of all things, and do count them but dung, that I may win Christ."
Psalm 119:11 "Thy word have I hid in mine heart, that I might not sin against thee."
Romans 12:1-2 "I beseech you therefore, brethren, by the mercies of God, that ye present your bodies a living sacrifice, holy, acceptable unto God, which is your reasonable service. And be not conformed to this world: but be ye transformed by the renewing of your mind, that ye may prove what is that good, and acceptable, and perfect, will of God."
Romans 8:38-39 "For I am persuaded, that neither death, nor life, nor angels, nor principalities, nor powers, nor things present, nor things to come, Nor height, nor depth, nor any other creature, shall be able to separate us from the love of God, which is in Christ Jesus our Lord."
Philippians 1:21 "For to me to live is Christ, and to die is gain."
Galatians 2:20 "I am crucified with Christ: nevertheless I live; yet not I, but Christ liveth in me: and the life which I now live in the flesh I live by the faith of the Son of God, who loved me, and gave himself for me."
1 Thessalonians 5:18 "In every thing give thanks: for this is the will of God in Christ Jesus concerning you."
It's been pointed out to me that I left off a very important verse!  I didn't originally include it because I assumed that most people were already familiar with it but I guess it really is one that you can't be too familiar with.  Here's a bonus verse to memorize if you haven't already and one to reflect on if you have, John 3:16.
John 3:16 "For God so loved the world, that he gave his only begotten Son, that whosoever believeth in Him should not perish, but have everlasting life."