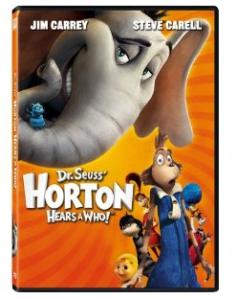 WOW!  This price is unreal!!
Go to Amazon to buy the Horton Hears a Who DVD for only $3.50!!!  What a great Christmas present or stocking-stuffer!  Plus, you'll get FREE shipping with Amazon Prime or with a 25+ Super Saver Shipping purchase.  Or another option, if you have a Discover Card, you can get FREE One-Day Shipping if you purchase this item using your Discover Card or Cashback Bonus. Just enter code DSCVRHSP at checkout to receive your free Discover Card shipping discount.
Be sure and check out our Christmas Gift Guide for even more deals on fabulous gifts!