I thought I might get behind on this December Photo a Day Challenge a day or two throughout the month but I had no idea it would be this soon.  I have a good reason though!!  I have contracted a nasty little illness.  My doctor said that it's a sinus and bronchial infection although I told my husband it feels more like the plague.  I haven't been sick for over two years and then I get hit with a bad cold in October and now again in December.  I am very thankful to have a dear husband to take care of me, insurance and money to pay for medicine, and a sweet baby girl who always makes me smile.  Now, on to my photos for day 4 & 5.  If you follow me on Instagram or Twitter you may have already seen these because I did take them on the correct day but they didn't make it to my blog then.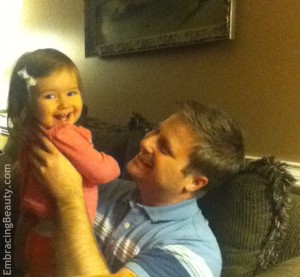 Day 4: Joyous
 Doesn't that picture truly represent the word joyous?  My little girl is joyful 98% of the time.  She is such a blessing to me!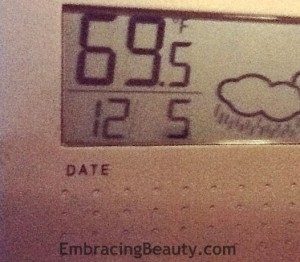 Day 5: Today's Temperature
This weather around here has been absolutely crazy lately.  Yesterday was overcast and 69.5 at the time I took this picture but I'm pretty sure it reached the 70's a day or two before.  60 & 70 degree days in DECEMBER!  That's wild!
In case you haven't heard what all this Photo a Day talk is about, you can go here to December Photo a Day for all the information.  The basic gist is that everyday throughout the month of December we're given a specific theme to take a picture of.  I'll be taking a picture with Instagram and I'll share my picture here on my blog.  I also have a linky attached to the main post so you can link up your photo of the day that you've published on your blog.  Plus, if you want to participate but don't have a blog you can use the hashtag #EmbracingDecember to share on Twitter or Instagram!  I hope you'll join us!