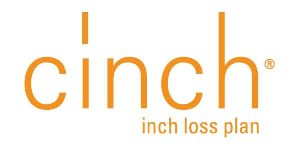 Way back in the summer, June I believe, I set my Cinch weight loss goal. #Cinchspiration!  I wanted to lose 30+ pounds by the end of this 6 month challenge.  That seemed like a ridiculously high, possibly unreachable, goal.  I started off overzealous, too zealous to the point where it was unhealthy.  Month two was fabulous for me.  I had hit my stride!  I went for walks, I was drinking more water, and I was sticking to Cinch.  I did spend a small time in the hospital having my appendix removed but I didn't eat much during that time.  Month three was very busy and a difficult month for many reasons.  My grandmother went to be with the Lord, my best friend got married, and at the end of month three I had lost 10 pounds and 20 inches.  I was proud of my weight loss despite my circumstances and diet cheating.  Month four was a wash.  Yep, it hurts to say it but I didn't gain or lose anything in the fourth month.  I was very sick for almost the entire month and I only followed the Cinch plan for one meal a day.  Through the month I gained a few pounds and lost a few pounds but at the end of the month my scales looked like they did at the end of the third month.  Now here I am ready to report at the end of the fifth month.
Can you believe it's been five months already?  I can't!  Time has flown by.  Even though my life hasn't been the ideal circumstances for demonstrating a diet program I'm glad to be able to tell you honestly how it works.  Life happens!  It does and we can't always be prepared for it.  I'll be honest, I'm not one of the die-hard people who are working out daily to show that they've lost the most weight.  There is a 10,000 spokesperson job with Cinch up for grabs at the end of this 6 month challenge and I believe one of them should probably get it.  They've altered more than their eating habits.  They've altered their life, their spare time, and what they consume.  That is huge!  Me on the other hand, I've never been much of a suck up.  Not that those ladies are!!  They may just be motivated women who want to lose weight.  I feel that if I went above and beyond like that it wouldn't be right.  It wouldn't be who I am and it wouldn't be an honest evaluation of the program.  I don't want to stop my life for a time being just to "prove" that this program works.  Do you know what I mean?  If I did that, you, my very important readers, would be deceived.  I want to give you an honest opinion from my experience with the program.  I hope that's okay!
Honest feedback about Cinch:
It's yummy!
It fills you up.
It gives you a little extra energy.
It's convenient.
The milkshakes do get old but there are a ton of different ways to mix up the shakes to make them tasty again.  For example, try the chocolate one hot or add pumpkin to the vanilla one.
Five months down and I'm proud to say that I've lost 20 pounds and 22 inches.  I haven't reached my goal yet but I have another full month to do so.  Who knows?  Maybe with this Black Friday shopping exercise that's coming up I'll be able to knock off another pound or two.  I don't have my pre-marriage body back but I'm getting very close to having my pre-baby body back and it feels good.  I might not look like I did when I was eighteen but I'm starting to feel good about the way I look again.  I feel better in my own skin and I can't adequately put that feeling into words.
I honestly think that Cinch is a wonderful program.  It's a convenient way to get protein packed meals to fill you up and keep you feeling you full.   They offer snacks for you in addition to a list of other healthy snacks that you can enjoy if you get the munchies.  If you're looking for a weight loss plan, or more specifically an inch-loss plan, then you should definitely take a look at the Cinch program.
Disclosure: I was provided Cinch products in exchange for my honest opinion.  No monetary compensation was received.