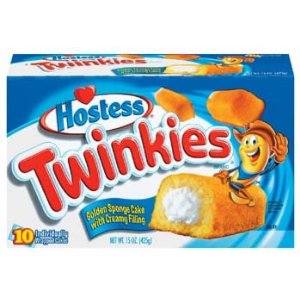 I'm sure that by now you've all heard the sad, sad news of Hostess officially closing their doors.  Someone will probably buy the name and recipe and continue on but until they do you can either buy them on Amazon for $75 a box or make your own.  I hope you'll try this Homemade Twinkie Recipe that I adapted from an old recipe I found.  I think it's pretty great and you can pronounce every single ingredient inside!   You will need to get yourself a Wilton Mini Loaf Pan or a Twinkie Shaped Pan if you don't already have one.
Homemade Twinkies recipe
Recipe adapted from TLC, which was adapted from Hey, that tastes good!
Ingredients: 
For the cake: 
1/2 cup sugar
1/2 cup brown sugar
2 eggs
1 1/4 cups all-purpose flour
1/2 cup milk
1/3 cup Canola oil
1 teaspoon baking powder
1 teaspoon vanilla
For the filling: 
1/3 cup shortening
1/4 cup sugar
1 teaspoon vanilla extract
1/4 cup light cream
1/2 cup confectioners' sugar & a little extra
Directions: 
Preheat the oven to 350 degrees F. Grease three mini loaf pans, six cupcakes, or 6 spots in the Twinkie pan with cooking spray.
Beat the eggs and sugar with a handheld mixer until thick. Slowly add in the other ingredients and beat until fully combined. Divide the batter among your pan of choice and fill it till it's about 3/4s full.  Bake cakes for 30-60 minutes until outside is a nice golden brown.  Once pan cools transfer to a wire cooling rack.
Prepare the filling by mixing the shortening, sugar, vanilla and light cream with a hand mixer.  Once combined, slowly add in sugar and beat until combined.  Add a little extra confectioner's sugar to get the right consistency.  Fill a pastry bag (or a baggie) with frosting and cut a small hole in the end.
After the cakes have completely cooled carefully poke holes in the bottom of the cakes and pipe frosting in.  The cupcakes only need one hole, however, the Twinkie loaf or mini loafs may take two or three holes to fill it properly.  Enjoy!
If you want to print this recipe just click on the green "Print Friendly" button below.   I'm pretty excited about this recipe and I like it but if you would rather try a recipe from  Hostess' The Twinkie Cookbook, you can also buy that on Amazon.  Let me know how you like the recipe!!