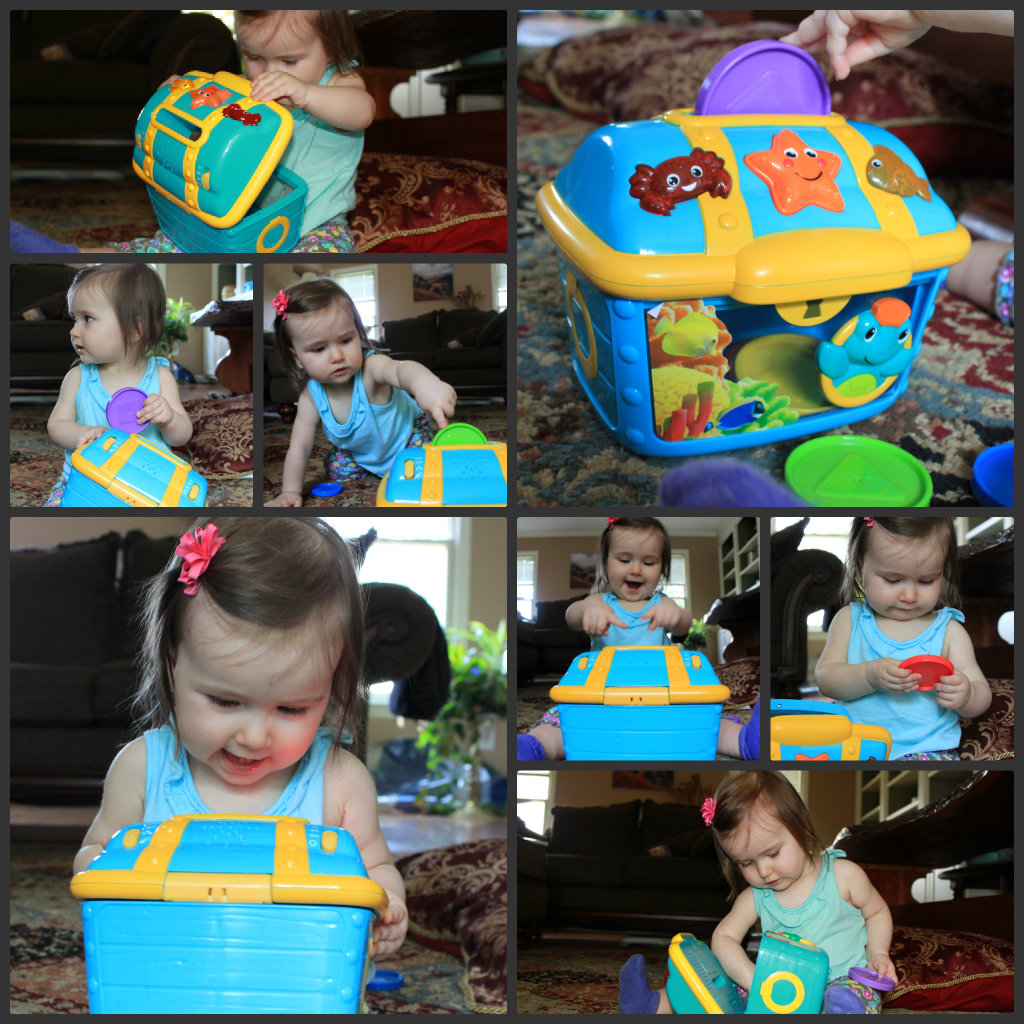 My little toy reviewer was recently given the opportunity to try out the new KidsII Count & Discover Treasure Chest from Baby Einstein.  All in all, we loved this toy.
Its bright colors, blinking lights, and fun music keep my girl entertained for a long time.  Since receiving this toy she has played with it every day!  I mentioned already that it has music but it has peppy, upbeat music that is fun for kids but not annoying for adults.  There is a good variety to the songs it plays and that is extremely important to me!
When you insert the coins into the chest it will say the color of the coin, the shape on it, or it will count the number of coins inside.  It can speak in English, French, and Spanish.  What a fun way to introduce little ones to a new language!
The only thing we didn't like about the toy is that it's top heavy and won't open fully.  Because it closes easily fingers have been pinched more than once.  I understand that there is extra weight to the top because of the technology behind the flashing lights and audio but I think this toy could be improved if the lid would open all the way.  That's just my opinion though!  As I said before, all in all, we loved this toy and are very happy with it!
Here's more information about the treasure chest:
Retail price of the Count & Discover Treasure Chest is $19.99.
Manufacturer's Suggested Age: 6 Months and Up
Includes: Coins
Educational Focus: Shapes and Colors, Teaching Aid, Motor Skills, Letters and Numbers
Number of Pieces: 11
Dimensions: 6.0 " H x 7.9 " W x 6.3 " L
Product Weight: 1.83 Lb.
Care and Cleaning: Hand Wash Only
Follow KidsII on Twitter to stay on top of their latest news and updates!
Disclosure: This review was made possible by Double Duty Divas and Kids II, Inc. I was provided the featured product free of charge to facilitate my review, and all opinions are 100% mine.