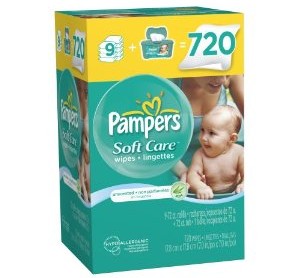 Right now on Amazon.com you can stock up on a few household items for cheap!  These prices may not be rock bottom meaning that you might be able to beat it when combining a sale with a coupon but they're good prices if you're in need of these items quickly or you live in an area where stores and sales are limited.
Pampers SoftCare Unscented Wipes: Pampers SoftCare Unscented Wipes are back on sale for $0.02/wipe.  They are on sale for $18.49 and you can save 20% with Amazon Mom or 5$ with Subscribe & Save.  These are our favorite wipes and this is the around the target price I try to get.  For more information on how I set my price list see my post, Stock Up Price List.
GoGoSqueez: Order GoGo SqueeZ Pouches in AppleCinnamon, ApplePeach or AppleBanana (48 ct.) for as low $24.17, or $0.50 each. Our family loves these for on-the-go snacking!
Earth's Best: Pick up a 12-count Earth's Best 2nd Fruits Variety Pack for $6.60 (or $7.76 without Subscribe & Save).
Q-tips Swabs: Stock up on three big boxes of Q-tips Swabs.  You can get 1875 swabs for only $9.99 ($9.49 with Subscribe & Save).  This is cheaper than our big box store's prices.
Sequence Game: Sequence is one of our family's favorite games and you can get a great deal on it now at just $14.99!