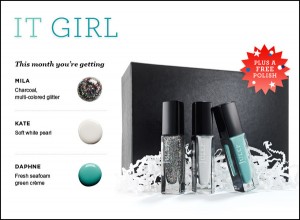 I am super excited to share this beauty program with you!  Do you love beautiful nail polish like me?  Has Pinterest inspired your love for beautifully manicured nails?  Would you like top of the line polish at a discount?  If you've answered yes to any of those questions, this deal is for you!
Julep has a new program called Julep Mavens and for $19.99 a month you can have $40+ worth of polish and goodies delivered to your door!  That's a good deal on it's own but I have a coupon code that will make your first month only $0.01.  You can cancel your account at any time but after you try this marvelous polish you might not want to!  Simply go to Julep.com, register, take the style quiz (to see which colors suit your style), enter code COLORS4ONE at checkout, select the Free Shipping for Mavens option, and proceed to purchase your $40+ bundle for only $0.01!
I would love to see which colors come in your monthly Julep box.  I'll be posting pictures of my July box soon!  It included my three Maven style colors pictured above and a bonus 4th of July polish!