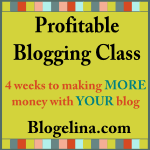 Through June 25, 2012, Blogelina is offering her 4-Week Online Profitable Blogging for Beginners class for free. If you're considering the possibility of starting your own blog or if you're a new blogger who would like to take it to the next level this class may be perfect for you.
To sign scroll to the bottom and fill out your name and email address at the bottom of this page.
When you sign up for the free Profitable Blogging Class, you'll get:
One free year of web hosting
Four weekly online class sessions
Plus, a class manual
You'll learn:
How to Get Your Blog Started on the Right Foot
Questions to Ask As You Begin blogging
How to Choose a Web Host for Your Blog
Why Your Blog Design is So Important
9 Different Ways to Easily Monetize Your Blog
How to Draw Visitors to Your Blog
Sign up for the free Profitable Blogging for Beginners here.  If any of you have taken this class before please feel free to share your feedback!