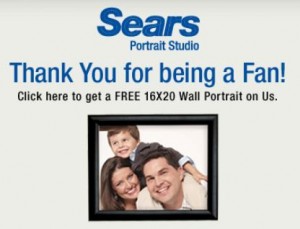 Have you been wanting a nice family portrait?  If so, you are in luck!  Sears Portrait Studios will give you a Free 16×20 Portrait when you "Like" them on Facebook.
You'll have to hurry though because this offer expires today, 5/15!  There is no session fee required but they may try to offer you other packages so be mentally prepared for that. : )  Enjoy!
Be sure and follow Embracing Beauty on Facebook while you're there!