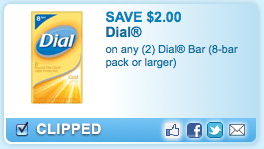 Print a $2/2 Dial Bar Soap coupon and a $2/2 Dial Body Wash coupon.
Dial is on sale Buy One, Get One Free at Walgreens this week so when you pair that sale with your coupon you should be able to get two very inexpensive items after this coupon.
Thanks, MoneySavingMom!