I love jewelry. I love hair accessories. I love sparkly things.  What can I say, I'm a girly girl!   Have you heard of Lilla Rose?  I hadn't either until I was approached to review one of their hair clips.  They are like jewelry pieces for your hair.
Lilla Rose's most popular item is their beautiful Flexi Hair Clip.  They also sell hairbands, bobby pins, hair sticks, and O rings.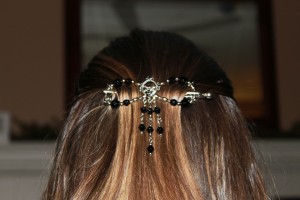 I love my Flexi-Clip!
You can use the Flexi-Clip to style your hair at least eight different ways.  I can't believe how many different styles and sizes of Flexi Clips are possible that even I can do. Amazing!  To help you find which size works well for your hair and your hair style of choice check out this helpful Flexi-Clip video.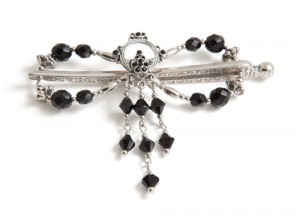 Aren't the details simply beautiful!
Before I had my darling little girl I had a lot of really fine hair, however, since then my hair has thinned quite a bit.  I have a medium Flexi clip and it's perfect for a pony tail and a full twist.  Surprisingly it even held in well with the half up hairstyle pictured above.  I love how simple it is to use.  I'm embarrassingly bad at attempting any up-do besides a ponytail and this was a piece of cake.  Seriously.  It doesn't pull my hair or feel like it's falling out constantly like barrettes do.  It's comfortable to wear and looks elegant.  I'm convinced that Lilla Rose products are simply fabulous and I'll be adding additional Flexi-Clips to my wish list!