Hurry!  McCormick is having a Pinterest contest that is ending tonight!!!  There are some pretty neat baking prizes up for grabs!  Here's how you can enter: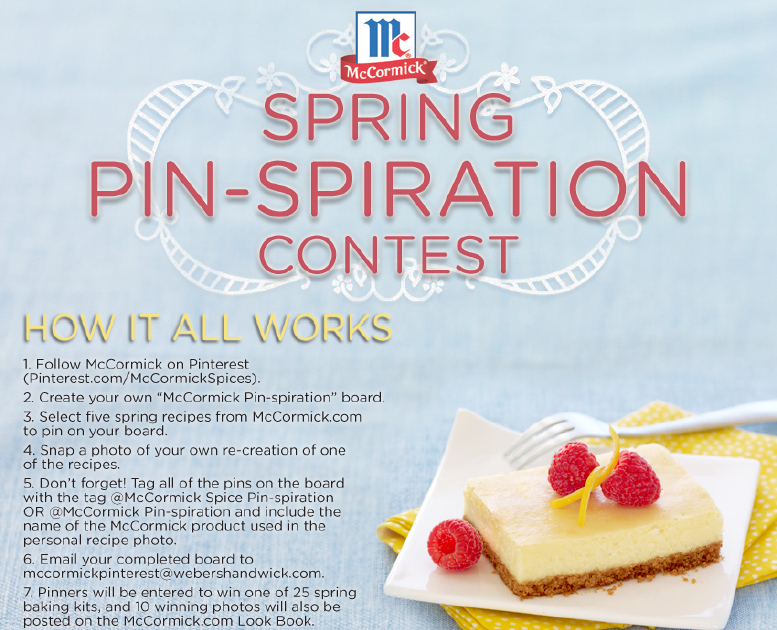 If you're like me McCormick is no stranger to your home.  It's a brand that makes food coloring dye, spices, and pre-measured spice mixtures with recipe cards (such a neat idea!).  McCormick products are a staple in our house.  We have an overflowing spice cabinet with spices for just about every meal imaginable.  Do you need meal inspiration?  If so, check out McCormick's Look Book that is filled with yummy recipes with gorgeous pictures!
Here's the recipe that I tried:
Spring Thyme Salmon
Makes 4 servings.
Prep Time: 10 minutes
Refrigerate Time: 20 minutes
Cook Time: 10 minutes
1/3 cup tangerine or orange juice (I used OJ)
1 tablespoon olive oil
1 teaspoon McCormick® Thyme Leaves
1 teaspoon McCormick® Mustard, Ground
1/2 teaspoon McCormick® Garlic Powder
1/4 teaspoon salt
1/4 teaspoon McCormick® Black Pepper, Ground
1 pound salmon fillet
1. Mix tangerine juice, oil, thyme, ground mustard, garlic powder, salt and pepper in small bowl. Place salmon in large resealable plastic bag or glass dish. Add marinade; turn to coat well.
2. Refrigerate 20 minutes, turning occasionally. Remove salmon from marinade. Discard any remaining marinade.
3. Broil 10 minutes or until fish flakes easily with fork.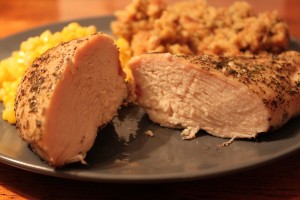 You may have noticed that I substituted salmon for chicken but let me tell you, it was yummy!  I'm anxious to try more of the simple recipe ideas from McCormick's Look Book.  I've already saved a few of my favorites so they'll be easy to access the next time I need a meal idea.  What are you waiting for?  Go check it out McCormick's Look Book for yourself; I'm sure you'll find more than a few recipes you'll want to try.
Oh and if you want to follow us on Pinterest you can follow McCormick on Pinterest here and Embracing Beauty on Pinterest here!
"I participated in a campaign on behalf of Mom Central Consulting for McCormick. I received product samples and a promotional item to thank me for participating"