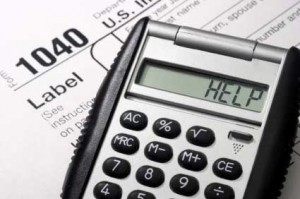 ****Hey guys, this is the list for Tax Day Freebies for 2012 to see the new list go to our post Tax Day Freebies & Discounts for 2013!****
Check out this list of Tax Day Freebies for 2012!
Today is normally Tax Day but this year it's actually Tuesday the 17th!  For those who are not scrambling around getting theirs done I have some great freebies & deals for you! : )
Remember to call ahead and make sure your location is participating.  For more details on each discount or freebie click the link provided.  Enjoy!
AMC Theatres – Get a free small popcorn at AMC Theatres via a Facebook coupon through April 15th.
Arby's – FREE Fries Coupon to use on April 17th.
Auntie Anne's – Buy Any 1 Pretzel Get 1 Signature Pretzel Free with coupon through April 25th.
Banana Republic Coupon code BRTAXBRAK gets you 30% off your entire purchase all day on 4/17 (this code also gets you free shipping w/ purchase of $50+).
Bob Evans – Free Kids Meal wyb 1 Adult Entree (4/14 Only) and B1G1 Entree through April 15th.
Boston Market – Buy 1 Individual Meal and Drink Get 1 Individual Meal Free on  April 17th.
Bruegger's – Big bag of bagels (baker's dozen + 2 tubs of cream cheese) for $10.40 with printable coupon on Bruegger's Facebook page.
Champps Americana – Two Burgers or Sandwiches for $15 or Any 2 Entrees for $25 on April 17th with coupon.
Chili's – FREE Appetizers or Desserts Coupon wyb Adult Entree April 16 to 18th (must be a Facebook fan, Twitter follower, or club member to get coupon).
Cinnabon – Two FREE Cinnabites 6 to 8 PM on April 17th.
Clouds and Stars – Save 15% on any purchase with coupon code TAXDAY through April 15th.
Dickey's Barbeque Pit – Free Side wyb Big BBQ Sandwich with coupon through April 17th.
Eddie Bauer – 15% off entire purchase with printable coupon or online (shop through Ebates for free money back!) through April 17th.
Einstein Bros Bagels – 25% Off Entire Purchase at Einstein Bros Bagels with coupon through April 15th.
HydroMassage – Free Massage on April 16 to 20th.
Maggie Moos – FREE Scoop of Yogurt 4 to 7 PM on April 17th.
Marble Slab – FREE Scoop of Yogurt on 4 to 7 PM on April 17th.
Mediterranean Grill – Free Cup of Soup wyb 1 Garbanzo Greens with coupon through April 17th.
Office Depot – Stop by an Office Depot and they will shred up to five pounds of paper and make 25 single-sided black and white copies for FREE through April 16th.
Panda Express – FREE Shanghai Angus Steak when you like them on Facebook.
Papa John's – Add 15 bonus points to all Papa Rewards member accounts for use through April 17th.
P.F. Chang's – 15% Off any purchase on April 17th.
Red Hot & Blue – Half Slab of Ribs for $10.40 with coupon through April 21st.
Regal – United Artists – Edwards Theatres – $2 Off 1 Nachos with Mobile Coupon through April 15th.
Seattle's Best – FREE Coffee Sample when you Like them on Facebook or Free Coffee in-store on April 17th.
Schlotzsky's – Free Chips and & 20 oz. Drink wyb a Hand-Carved Sandwich.
Seattle's Best Coffee  – FREE sample of its Levels coffee to those who request it via the company's Facebook page and click on "Great American Coffee Refund."
Sonic – Half Price Drinks All Day on April 17th.
Smokey Bones – $5 Off $15 Purchase with coupon through April 15th.
Taco Bueno – Double Order of Chicken Sizzling Skillet Fajitas for the Price of a Single Order wyb 1 Drink with coupon through April 17th.
White Castle – FREE Chicken Breast Sandwich with coupon & 15% off Prep for Tax Day Facebook coupon.
Whole Foods – Tax FREE shopping in Tennessee and Alabama stores only on April 16th.
H&R Block
 – Prepare, Print, and e-file your Tax Return for free
Turbo Tax
 – Prepare, Print, and e-file your Tax Return for free
While  you're here check out all of the Freebies you can get and sign up for our daily newsletter to never miss a hot freebie again!
Like coupons? For more money saving deals & freebies "Like" us on Facebook.
If you use coupons and would love to know how to use them like a pro, check out our FREE Extreme Couponing 101 series!